This is an archived article and the information in the article may be outdated. Please look at the time stamp on the story to see when it was last updated.
President Barack Obama plans to travel to Palm Springs after the inauguration Friday, White House Press Secretary Josh Earnest said Tuesday.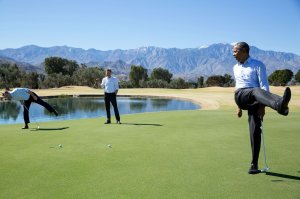 "The first family is looking forward to flying to Palm Springs, California, on Friday," Earnest said.
"The president vowed to take his family to a destination that is warmer than Washington, D.C., on Friday, and Palm Springs fits the bill," Earnest said. "He and his family have enjoyed the time they've spent there in the past, and they're looking forward to traveling there on Friday."
Obama will fly aboard the presidential aircraft to the Coachella Valley oasis, where he's taken frequent golf trips as president, two sources familiar with his plans told CNN earlier Tuesday.
Another source familiar with the trip confirmed Obama and the first lady will be staying at the Rancho Mirage home of Michael Smith, the decorator responsible for designing the Oval Office and private residence, a location where the Obamas have stayed in the past.
Obama has hosted multiple international summits at the Annenberg Retreat at Sunnylands in Rancho Mirage, the Los Angeles Times noted.
Initially, he plans to relax after leaving the presidency, Obama told "60 Minutes."
"Well, here's one thing is I'm not setting my alarm. That, I'm certain of. That I am absolutely positive of," the president said in an interview that aired Sunday. "I'm going to spend time with Michelle. And, you know, we got some catching up to do. We've both been busy."
Obama is expected to return to Washington for daughter Sasha to finish high school. She is currently a sophomore at Sidwell Friends School there.