This is an archived article and the information in the article may be outdated. Please look at the time stamp on the story to see when it was last updated.
A Huntington Beach man killed two women at a New Year's party at a Westminster home while his family waited outside, and then returned to set fire to the home and dispose of the victim's bodies, prosecutors said.
The new details in the grisly case against Christopher Ireland, a 37-year-old real estate agent, were revealed Friday as the Orange County District Attorney's Office announced he had pleaded not guilty to two counts of murder, arson and aggravated mayhem.
He was arraigned Friday after being charged Jan. 4.
Ireland is accused of killing 59-year-old Yolanda Holtrey and her friend, 49-year-old Michelle Luke, at Holtrey's home in the 5000 block of Northwestern Way on Jan. 1. A motive for the crimes has not been disclosed.
Holtrey and Luke worked with Ireland's wife at a Stein Mart in Huntington Beach, a relative told KTLA.
At 1:20 a.m. on New Year's morning, he allegedly killed the two victims, "striking them each multiple times with a sharp instrument," the DA's office said.
He also allegedly disfigured Luke's ear — a crime that the prosecutor alluded to earlier this month when explaining the mayhem charge.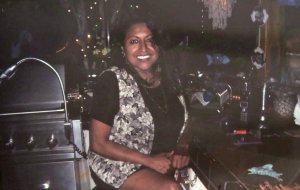 His family awaited him outside, and Ireland left the bodies and drove away.
He returned at 3 a.m., lined his vehicle's trunk and dragged the women's bodies to the trunk just before 4:30 a.m., the DA's office said. He then allegedly used an accelerant to set fire to Holtrey's home and drove away about 5 a.m.
As neighbors called 911 to report the fire, Ireland allegedly drove the end of a dead-end road in Newport Beach and dumped the bodies in a vacant lot.
Firefighters responded to the home, noticing blood on furniture and the floor, as well as accelerants.
The bodies were found the next day; Ireland was arrested by Westminster police.
At a minimum, he faces life in prison without parole if convicted. He is due back in court in Westminster Feb. 16.