This is an archived article and the information in the article may be outdated. Please look at the time stamp on the story to see when it was last updated.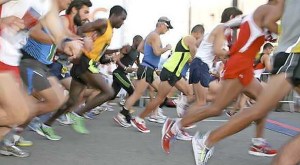 OC Marathon registration is up following Monday's terrorist attacks in Boston, race organizers said.
Organizers are witnessing an outpouring of support on social media for the Boston Marathon victims, and Orange County runners appear to want to compete in their honor.
"The numbers continue to flood in," said race Director Gary Kutscher. "Very few are voicing enough concern that they are choosing not to run. [We've had] a number of people who said, 'I wasn't planning on running because of a slight injury, but now I want to run in support of Boston.'"
In addition to those registering in support of the Boston victims, Kutscher also explained that the Newport Beach-to-Costa Mesa race had stepped up a marketing and advertising effort planned well before the tragedy with full-page newspaper ads.
Kutscher said it would be difficult to determine how much of the uptick in registrants was due to Boston and how much came from marketing.
The exact number of registrants to sign up since the Boston Marathon was not available, but Kutscher said day-to-day registrations are trending about 30% higher than this time last year.
Race organizers expect about 20,000 participants in the May 5 marathon, half marathon, 5K and kids' run. The main, 26.2-mile race starts in Fashion Island and ends at the Orange County Fairgrounds.
Some changes to safety will be implemented, including a requirement that runners store their belongings in clear bags, Kutscher said.
"Safety prior to Boston was primarily focused on keeping runners safe, keeping vehicles off the course," he said. "Certainly Monday's events in Boston have required we look at a different level of security for the spectators for this type of event."
Organizers are working with the Newport Beach, Costa Mesa and Santa Ana police departments as well as with the Orange County Sheriff's Department to retool and expand its public safety program on race day, Kutscher said.
The FBI will also provide additional resources, said Costa Mesa police Lt. Greg Scott, who declined to provide the exact number of public safety personnel who would be brought in to protect the course.
"Our staff will be very vigilant to maintain the spirit and sanctity of this wonderful event," Scott said.
The Costa Mesa Police Department encouraged spectators to limit the number and size of bags they bring to the course and to keep their belongings with them at all times.
The Newport Beach Police Department said it was working closely with event organizers to ensure the safety of participants and those in attendance.
"Obviously, our emphasis is to ensure that all those who attend and participate in this event will have a safe and enjoyable experience," said Newport Beach Lt. Jon Lewis.
Safety practices from years past — including securing the start and finish lines the night before, and police patrols prior to the race and medical aid at the start and finish lines — will continue this year, according to Kutscher.
He said he hopes for one more change this year.
"I just want to encourage all of our community, certainly the residents of Costa Mesa and Newport Beach, to support these runners to cheer them on," he said. "I really just hope the runners say when they finish 'I've never seen such a support from the neighbors.'"
— Lauren Williams, L.A. Times