This is an archived article and the information in the article may be outdated. Please look at the time stamp on the story to see when it was last updated.
School district officials in Orange County warned parents on Friday that flutes their children handled and took home as part of a class project may have been tainted with the bodily fluids of a person who is now under state investigation.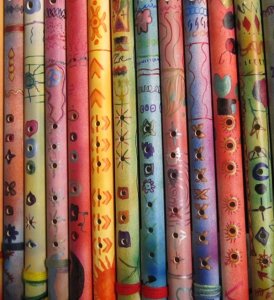 An email was sent to parents from the Capistrano Unified School District around 5 p.m. Friday to notify them about the hazard, which administrators said could affect schools throughout Southern California.
The individual who possibly contaminated the students' material led music education programs at multiple schools within the district as well as other locations in Orange County and other Southern California school districts, Ryan Burris, chief communications officer at Capistrano Unified School District, wrote in the email to parents.
The person was not employed with the Capistrano Unified School District, Burris added.
District officials were notified of the threat by the California Department of Justice. Local law enforcement on Friday confirmed the flutes "may have been inappropriately contaminated with the suspect's bodily fluid," Burris said.
The flutes in question were made with plastic PVC pipe and a single wine cork, then decorated.
Burris did not urge parents to throw the items away; instead, he asked they be preserved in a sealed paper bag to be further examined by authorities. (A plastic bag could destroy the evidence due to lack of air circulation.)
Still, it would be "inappropriate and unsanitary" to children to have further contact with the flutes, Burris emphasized.
Details such as the individual's name and locations or dates the programs might have been administered were not disclosed. It was also unclear whether other classroom materials could have been impacted.
"We understand this is deeply upsetting to our families and that you may be seeking more details than we can provide," Burris wrote.
An email sent to parents with children in the Saugus Unified School District on Saturday indicated that the flutes were contaminated with semen.
'These allegations are deeply concerning, and I realize they raise many questions," the message from Superintendent Joan Lucid read. "I want to assure you that we are cooperating with law enforcement in this important ongoing investigation."
She asked parents with such instruments to also seal them in a paper bag.
The person remains under investigation by the state Department of Justice as well as the U.S. Postal Inspection Service.
KTLA's Cindy Von Quednow contributed to this story.