This is an archived article and the information in the article may be outdated. Please look at the time stamp on the story to see when it was last updated.
Three Huntington Beach schools were expected to be closed for the remainder of the week after officials announced late Tuesday that tests revealed an asbestos fiber had been discovered at one of the campuses.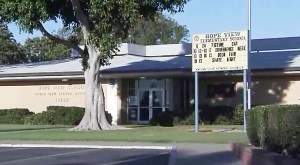 Documents showed that damaged fireproofing in ceiling tiles at Hope View Elementary School tested positive for the cancer-causing substance.
The district subsequently admitted that the area should have been labeled as "restricted."
In the wake of that revelation, asbestos testing has been stepped up for nights and weekends at eight schools in the district that have not been tested yet, officials said. The three schools that were closed were being deep cleaned.
The growing controversy began late last month when an Ocean School View District school board member filed a complaint with Cal/OSHA over possible asbestos handling violations related to asbestos abatement at 22 schools in the district.
District officials said that a school modernization project over the summer led to the asbestos removal, but parents claimed they were never notified.
"We were told by the district that the asbestos would be removed in summer when kids weren't here," said school board member John Briscoe, who filed the complaint. "Then we're sitting in a board meeting and we found out that, holy socks, it's being removed right now with kids in schools wandering around all over the place."
Teachers also said they were never told or warned about touching the ceiling tiles at Hope View.
At a packed meeting late Tuesday, concerned parents expressed anger and outrage that their children may have possibly been exposed to asbestos and could suffer potential negative health effects.
"For the rest of my life, every time this little girl coughs, every time she gets a cold—'Is it now?' 'Is this it?'" parent Carol Bader said. "Shame on all of you."
At one point, a long-time resident called for district administrators to resign, something that prompted a standing ovation from the large crowd.
Initially, three Huntington Beach schools — Hope View, Lake View and Oak View — were expected to be closed for the remainder of the week. Then at the meeting, the district announced it was going to close all 11.
However, around midnight, officials rescinded that decision and said that only the three schools would be closed.
Some parents on Wednesday expressed concern over the decision to keep eight of the schools open.
"I hope that they close the schools and do what's right and actually abate the asbestos without the children there…just clean it up," said Samar Pederson, who attended Tuesday's meeting and said she was keeping her two daughters home from school despite the fact it remained open.
Last week, some 40 percent of students at Hope View were kept home by their parents.
More video: