This is an archived article and the information in the article may be outdated. Please look at the time stamp on the story to see when it was last updated.
Two Covina-Valley Unified School District teachers were recently arrested after allegedly having sexual relations with multiple students from South Hills High School, the Orange County Sheriff's Department announced Sunday.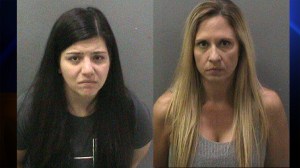 Melody Lippert, 38, and Michelle Ghirelli, 30, were accused of meeting up with a group of students from the West Covina high school at San Clemente State Beach last November, a news release from the Sheriff's Department said.
During the beach trip, Lippert allegedly provided alcohol to the students before having some sort of sexual relationship with one of them, according to the release.
Several weeks later, Lippert planned an overnight camping trip at the same beach involving Ghirelli and several of the students who attended the previous one, the release stated.
Both teachers allegedly had sexual relations with two students on the trip, which was not a school or district-sponsored event, authorities said.
"As soon as we became aware of these allegations, we immediately contacted the West Covina Police Department and have been working closely with their detectives," said Michelle Van Der Linden, a spokeswoman for Covina-Valley Unified.
Officials later contacted district parents to make them aware of the matter, Van Der Linden said.
Lippert, who teaches at the high school, was arrested Saturday on suspicion of conspiracy and contributing to the delinquency of a minor, according to the release.
Ghirelli, a district teacher, was also arrested Saturday on suspicion of oral copulation and unlawful sex with a minor, the the statement said.
Both were booked into Orange County Jail. Lippert was held on $20,000 bail, while Ghirelli's was set at $50,000.
Some of the students were of age and some were not, sheriff's Lt. Jeff Hallock explained of why the women faced different charges.
"Based on the charges the teachers were booked to, you can make that assumption as to which teacher was with students that were of age and were of not," Hallock said. "But of course, regardless of somebody's of age or not is very serious. We take these very serious when you're talking about a student-teacher relationship."
They were released on bond early Sunday morning, according to the county's online inmate records. The pair was expected to be arraigned Wednesday.
"A teacher is a position of authority. They're trusted. Parents send their kids to school every day and expect that they're safe," Hallock said. "To compromise that safety, to compromise that trust that we have in our teachers, is taken very seriously."
Anyone with information about the investigation was asked to contact the Sheriff's Department at 714-647-7000 or 714-647-7418.
Those wishing to provide a tip anonymously were urged to call OC Crime Stoppers at 855-847-6227 or visit occrimestoppers.org.
KTLA's John A. Moreno contributed to this report.
Correction: An earlier version of this report erroneously stated the area where the teachers are employed. The article has been updated to reflect the change.