This is an archived article and the information in the article may be outdated. Please look at the time stamp on the story to see when it was last updated.
Occidental College, where a young Barack Obama discovered his passion for politics and social issues, has announced a new scholarship program in honor of the former president "to empower exceptional students committed to the public good."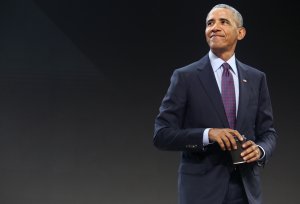 Beginning in fall 2018, the liberal arts school in Eagle Rock will cover the costs of four years of undergraduate studies for two students, including their tuition, room and board and study abroad and summer internship programs. The college hopes to raise $40 million to endow and expand the program. So far, it has raised $7 million.
Administrators estimate it will cost about $500,000 to support each student through the program, which also includes a fifth-year fellowship.
The Barack Obama Scholars Program will recruit students from all backgrounds, with an emphasis on veterans, community college transfers and students who are the first in their families to attend college, administrators said. The scholars will be chosen from the regular freshman application pool.
Read the full story on LATimes.com.