This is an archived article and the information in the article may be outdated. Please look at the time stamp on the story to see when it was last updated.
In a move that echoed recent demonstrations at university campuses across the country, a group of students have been protesting what they described as racial injustice at Occidental College and on Tuesday continued to stage a sit-in at an administration building on the Eagle Rock campus.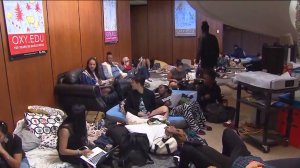 Oxy United for Black Liberation's list of 14 demands included a call for the "immediate" resignation the school's president, Jonathan Veitch. That demand followed the stepping down last week of the University of Missouri Sytems's president, Timothy M. Wolfe, and Mary Spellman, Claremont McKenna College's dean of students, amid similar protests.
The activists at Occidental have also demanded "an increase in faculty in staff of color, a black studies program, more funding for students of color to do more programming and bring more speakers" to the school, "and so we want that by Friday," said Mika Cribbs, vice president of the Black Student Alliance, which organized the protest along with the Coalition at Oxy for Diversity and Equity.
Hundreds of students initiated the sit-in at the Arthur G. Coons Administration Center on Monday, after a rally outside building, the Los Angeles Times reported.
"They made their intent to stay for the week clear by bringing in huge quantities of water, food, and sleeping supplies," Oxy United said in a statement, adding that the students were "allowed to occupy without interference from the administration thus far."
Veight, whose contract extension from the school trustees extends through 2020, was traveling Monday, according to The Times.
In a statement, Occidental said the administration was "currently reviewing the list of demands, which were first presented to college officials at a demonstration" on Thursday.
Oxy United described that event as a four-hour walkout and teach-in, involving more than 600 students, which culminated in a march to Veitch's on-campus home.
"We applaud the socially conscious spirit of these students," the administration's statement added. "They are bringing attention to an important movement and helping our community have a difficult but necessary conversation about race, identity and culture."
On Tuesday afternoon, several camping tents remained outside the administration building, while students inside sat in hallways and the lobby.