This is an archived article and the information in the article may be outdated. Please look at the time stamp on the story to see when it was last updated.
Nadya Suleman, aka Octomom, has been charged with welfare fraud after allegedly failing to report nearly $30,000 in earnings, the Los Angeles County District Attorney's Office announced Monday.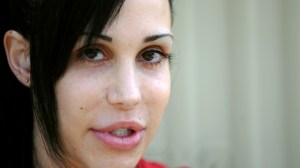 According to the complaint, Suleman, 38, filed for public assistance in Lancaster in January 2013, but did not disclose that she was receiving income for personal appearances and residuals from videos.
She was charged Jan. 6 with one count of aid by misrepresentation and two counts of perjury by false application for aid, according to the DA's office. Both charges are felonies.
The mother of 14 was scheduled to be arraigned Friday.
She allegedly illegally gained about $16,500 in aid from CalWORKs and CalFresh during the first half of 2013, according to a criminal complaint.
If convicted, Suleman could face up to five years, eight months in custody.
Suleman, whose real name is Natalie Denise Suleman, gained notoriety by giving birth to octoplets in January 2009.