This is an archived article and the information in the article may be outdated. Please look at the time stamp on the story to see when it was last updated.
An off-duty U.S. Border Patrol agent was arrested on suspicion of homicide early Saturday after a shooting in East Hemet that left a 27-year-old man dead, officials said.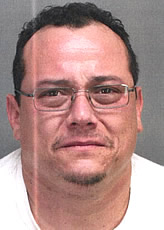 John Demery, 40, of Hemet, was booked at the Southwest Detention Center in Murrieta, according to a news release from the Riverside County Sheriff's Department.
He has been suspended from duty and placed on administrative leave pending an investigation into the shooting, U.S. Customs and Border Protection said in a statement.
Deputies responded about 12:47 a.m. to a call reporting an assault with a deadly weapon in the 41100 block of Toledo Drive (map). They arrived to find a man, later identified as Adam Thomas, suffering from multiple gunshot wounds, the news release said.
Thomas, a resident of Moreno Valley, was transported to a hospital where he died, officials said.
The suspect had confronted the victim at a nearby home, where an argument ensued between the two men before Demery opened fire, according to investigators from the sheriff's Central Homicide Unit.
Demery is assigned to the San Diego Sector Newton-Azrak Station in Murrieta.
U.S. Customs and Border Protection's Office of Internal Affairs and the Border Patrol's San Diego Sector are cooperating with the Sheriff's Department, which is leading the investigation.