This is an archived article and the information in the article may be outdated. Please look at the time stamp on the story to see when it was last updated.
An off-duty deputy fought off a burglary suspect as he was on his way to work in Stevenson Ranch Monday morning, officials said.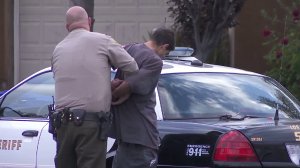 The incident occurred about 5 a.m. when the deputy, who apparently doesn't work for Los Angeles County Sheriff's Department, saw a man who was trying to rummage through his vehicles in his garage.
The deputy confronted the man, the two got into a fist fight and the deputy chased the suspect down the street, Deputy Curtis Foster said.
Units from the Santa Clarita Sheriff's station responded to the area and a helicopter eventually found the suspect crouching between houses in the area.
The suspect, 19, was found with burglary tools and drug paraphernalia and was arrested at the scene.