This is an archived article and the information in the article may be outdated. Please look at the time stamp on the story to see when it was last updated.
Authorities said Thursday that an off-duty Santa Monica police officer was able to board a flight to Taiwan with a gun that made it past security.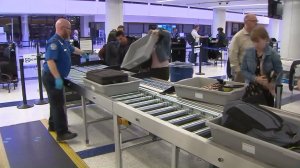 The mishap began at Los Angeles International Airport, according to the Transportation Security Administration, during an incident in which the TSA now says "standard procedures were not followed."
The officer, Noell Grant, was traveling on leisure with her family and had a layover in Taiwan on her way to Thailand. When she landed in Taiwan on April 13, she notified authorities that she had accidentally transported her off-duty firearm, according to Santa Monica police spokesman Lt. Saul Rodriguez.
Rodriguez said Grant is still being detained in Taiwan and the TSA said it is retraining the employees involved in the incident.