This is an archived article and the information in the article may be outdated. Please look at the time stamp on the story to see when it was last updated.
An off-duty 29-year veteran of the Los Angeles County Sheriff's Department was killed when he was struck Saturday by a vehicle while he was stopped on the shoulder of the 605 Freeway in Cerritos, authorities said.
Deputy Michael Haak, a father of three, was driving northbound and "presumably experiencing vehicle trouble" around 2:40 p.m. Saturday, according to Sheriff's Deputy Grace Medrano.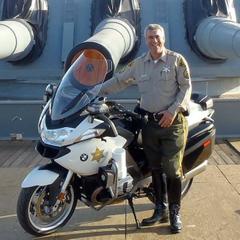 Haak had pulled to the shoulder and exited on the traffic side of his vehicle when he was hit by a car in the right lane, she said.
The other motorist, a 54-year-old man from Buena Park, cooperated with California Highway Patrol investigators, who said they did not believe he was under the influence of drugs or alcohol, according to a sheriff's news release.
See the full story on LATimes.com.