This is an archived article and the information in the article may be outdated. Please look at the time stamp on the story to see when it was last updated.
A San Bernardino police officer was in grave condition Friday after coming under fire from a gunman who was shot dead by a trainee officer, authorities said.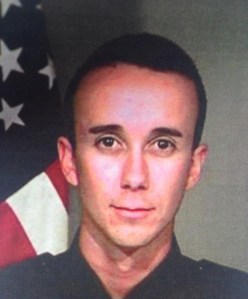 Two women and two men were detained shortly after the shooting, which occurred about 2 a.m. An hourslong search led to the arrest of a fifth individual, another man.
The shooting occurred when two officers approached a group of people for unknown reasons in the 1900 block of Garner Avenue (map) around 2:07 a.m., San Bernardino Police Department Chief Jarrod Burguan said.
"They were armed when the officers approached," Burguan said.
The senior officer, identified as 31-year-old Gabriel Garcia, was almost immediately struck by gunfire and quickly went down, the chief said. Garcia is the son of a captain on the force, police confirmed.
The officer was shot at least once in the head, police Lt. Rich Lawhead said.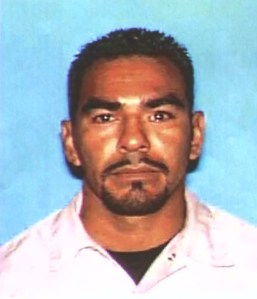 The alleged gunman, identified as 38-year-old Alex Alvarado, was shot dead by the trainee officer after what Burguan called a "protracted gun battle." Other officers who responded were able to get Garcia into a vehicle and took him to a nearby hospital.
One of the other people arrested, 20-year-old Jonathan Contreras of San Bernardino, was being held on suspicion of possession an assault-style rifle and a sawed-off rifle that Alvarado was believed to have used, Burguan said. The chief later described the second firearm as a revolver.
Police believe Alvarado fired and that both weapons were used, the chief said. Investigators had no information showing any of the other people detained fired a weapon, but the possibility was being explored, Burguan said.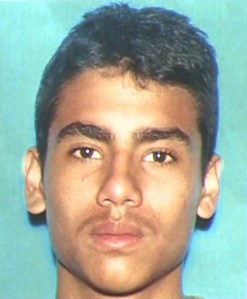 "They were clearly in possession of these guns and they were floating around on the street. If you've got a question as to why that happened, the one person that could probably have answered that question is dead," Burguan said.
Garcia had been with the department for 6 1/2 years and had been recognized for his graffiti work, Burguan said. His father is Capt. R.C. Garcia, who has been with the San Bernardino Police Department for 23 years, according to his biography on the city's website.
"Gabe is still an outstanding young man and he has served this community proudly," Burguan said.
Earlier, the chief had said the officer was well respected in the department and had a "great reputation for working hard and does very good police work."
Garcia had been rushed to the Dignity Health Community Hospital of San Bernardino then transferred to the Arrowhead Regional Medical Center. His condition had not changed as of 11:30 a.m. following surgery.
He was "fighting for his life," Burguan tweeted.
In addition to Contreras, police were also holding 24-year-old Orlando Cruz of San Bernardino in connection with traffic warrants; it was not yet known if any other charges would be sought against him, Burguan said.
The two women and other man being held were being questioned and it was not known if charges would be pursed against them, according to Burguan.
Alvarado had a "significant arrest record" but was not on probation or parole, Burguan said.
The group had been "milling about" near cars and houses on a street that dead-ends in a field when the officers approached, Burguan said.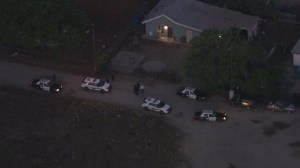 The trainee officer graduated from the academy two months ago, Burguan said, who called the situation a "learning experience."
"From what I heard, he did a pretty remarkable job considering his tenure on the department and his experience level. The way that he reacted to it, stuff like that is pretty remarkable," Burguan said.
Multiple agencies responded to the incident, including the San Bernardino City Unified School District Police, San Bernardino County Sheriff's Department, California Highway Patrol and Union Pacific Police, according to a Facebook post.
Officer Garcia is still in 'very critical' condition. Many thanks for the outpouring of support. Keep him in your prayers please.

— Jarrod Burguan (@RetSBPDChief) August 22, 2014
More Video: