This is an archived article and the information in the article may be outdated. Please look at the time stamp on the story to see when it was last updated.
A CHP officer who was caught on cellphone repeatedly punching a woman in the face on the side of a Los Angeles freeway could face "potentially serious" criminal charges, the California Highway Patrol announced Wednesday.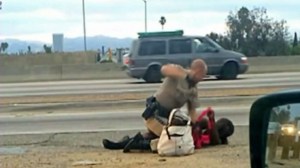 Officer Daniel Andrew was subject to a criminal investigation after the beating of 51-year-old Marlene Pinnock near the La Brea Avenue exit of the 10 Freeway on July 1.
Pinnock had been wandering on foot into freeway lanes when she was detained by Andrew, CHP said soon after cellphone video of the violent arrest gained attention.
"He just grabbed me from behind and just started pulling me back and started swinging and hitting me," Pinnock said Wednesday. "I don't why, he just started doing it."
In the video, Andrew could be seen throwing Pinnock to the ground, straddling her and then repeatedly punching her in the face and upper body.
Pinnock has filed a civil rights lawsuit against the CHP officer and CHP Commissioner Joe Farrow, the agency's chief.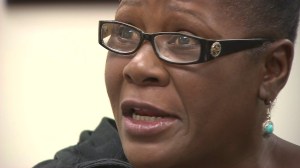 Andrew's peace officer duties have been revoked and he has been moved to "administrative time off," according to a news release issued Wednesday by CHP's Southern Division.
The criminal case against him, which outlines "potentially serious charges," has been forwarded to the Los Angeles County District Attorney's Office, which will determine whether or what charges are filed.
CHP did not stated what charges against Andrew had been recommended.
"Please charge him with a felony, right now, and issue an arrest warrant," said Pinnock's attorney, Caree Harper, on Wednesday.
Civil rights leaders held a news conference Wednesday evening in response to the CHP announcement, calling for Andrew to be fired and criminally prosecuted. Earl Ofari Hutchinson of the policy group Los Angeles Urban Roundtable, which organized the news conference, said case having gone to prosecutors was a "partial victory."
"The officer should be fired, and the officer should be prosecuted," Hutchinson said. "One without the other is not justice."
The Highway Patrol, meanwhile, was planning to continue its ongoing internal investigation into this incident, separate from the criminal investigation.
"The CHP understands the public's interest in this case, and it is our desire to be as transparent as possible while adhering to the laws and due process that govern any investigation," the release stated. "We value the public's trust and appreciate the community's patience as we complete this important process."