This is an archived article and the information in the article may be outdated. Please look at the time stamp on the story to see when it was last updated.
A Los Angeles police officer wanted on suspicion of murder for a shooting that took place in Pomona last week was terminated from the department on Tuesday.
Officer Henry Solis, 27, allegedly shot and killed 23-year-old Salome Rodriguez Jr. early Friday morning following a physical altercation near West Third and South Main streets (map).
Solis has been on the run since the shooting, prompting a warrant to be issued for his arrest Monday.
On Tuesday, LAPD Chief Charlie Beck signed Solis' termination papers.
"You have dishonored this Police Department, your country and your service to the country, and your family … you should turn yourself in and face the consequences for your actions," Beck stated in a message intended for Solis.
Solis, described as a "probationary" officer, was hired by the LAPD last June, and worked in field for the Devonshire division since November.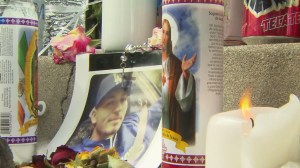 His car, a 2013 Volkswagen Jetta, was found roughly 3 to 4 blocks where Rodriguez had been fatally shot.
The victim's family said he was on his way home when he was shot five times.
Rodriguez was transported to Los Angeles County-USC Medical Center, where he died.
Some online blogs have compared Solis to cop killer Christopher Dorner, but Beck said the circumstances aren't the same.
"His actions were mostly likely fueled by alcohol and maybe some inability to control his temper. Dorner was very, very different," Beck said.
KTLA's Tracy Bloom, Ashley Soley-Cerro and Melissa Pamer contributed to this report.