This is an archived article and the information in the article may be outdated. Please look at the time stamp on the story to see when it was last updated.
After a group of Santa Ana police officers appeared to be eating marijuana-laced "edibles" during a pot shop raid, an investigation later found the officers were actually stealing regular foods from the shop and smashed cameras during the raid, the Orange County District Attorney's Office said Wednesday.
The three officers — Jorge Arroyo, 34, and Nicole Lynn Quijas, 39, Brandon Matthew Sontag, 33 — have each been charged with petty theft and Sontag has also been charged with vandalism for the crimes, which happened during a raid in late May 2015, prosecutors said.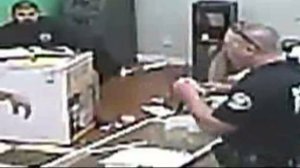 Arroyo and Quijas must each do 40 hours of community service and pay $200 to a victim witness emergency fund as part of a no contest plea. Sontag must do 80 hours of community service, pay full restitution for equipment damaged during the pot shop raid and pay another $200 to a victim witness emergency fund, according to the DA's office.
At about 5:50 p.m. on May 26, 2015, a group of Santa Ana police officers raided a marijuana dispensary on 17th Street called Sky High Holistic, prosecutors said.
Some of the store's surveillance footage of the raid, released by a lawyer representing a volunteer manager for the shop, shows at least eight officers busting into the dispensary with their guns drawn and shouting "everybody on the ground."
The footage shows a female officer remarking of one woman with an amputated leg in a wheelchair: "I was about to kick her in her f—ing nub."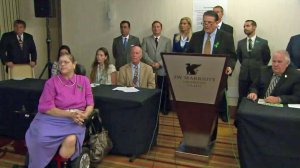 While the officers legally disabled 16 of the shop's cameras, some other secret surveillance cameras caught some of the officers eating during the raid — a sight that made it appear they were eating the pot-laced 'edibles' often sold at marijuana dispensaries.
At the time, the attorney representing a manager at the shop said it seemed clear that officers who can be seen eating during the raid were actually knowingly consuming foods that contain marijuana.
"One of them talks about the candy bar, the edible, and says he's starting to get light-headed," attorney Matthew Pappas said during a news conference in early July. "That would indicate to me that they're eating marijuana edibles. They're sitting right near a safe … where the edibles are located."
But Santa Ana police challenged that claim and launched an internal investigation into the incident. At the time, Chief Carlos Rojas said law enforcement was still awaiting the full version of the video and claimed there was evidence going against Pappa's claims about officers eating edibles.
"At this point in our investigation, we have evidence contrary to what Mr. Pappas is putting out," Rojas said. "So that's why we would like to see a full copy of the tape, to see if we can reconcile some of the contradictions that are being put out there."
Nearly a year after the raid, in March 2016, Orange County prosecutors said an investigation revealed the officers weren't eating marijuana-laced foods but had stolen snacks from the dispensary's employee break room, including Detour Simple protein bars and Mrs. Thinsters cookies.
And while officers had "legally disabled" 16 of the shop's cameras, O.C. prosecutors said in a news release, five of those cameras had been unlawfully vandalized.
Prosecutors said Sontag damaged five of the shop's surveillance cameras — valued about $80 to $100 each — by banging and smashing their lenses into the corner of a display case, cash register, shelf and safe, prosecutors said.
Along with eating protein bars and giving them to other officers, Quijas and Arroyo also "took extra cookies" before leaving the shop, prosecutors said in a news release.
The Bureau of Investigation for the DA's office interviewed multiple witnesses and reviewed over 16 hours of unedited surveillance footage to reach their conclusions about crimes committed during the police raid.