This is an archived article and the information in the article may be outdated. Please look at the time stamp on the story to see when it was last updated.
A suspected shoplifter was shot and killed by officers following a search that began when he allegedly opened fire at a security guard in the Baldwin Hills Crenshaw Plaza on Wednesday, according to the Los Angeles Police Department.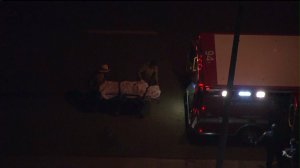 The search began when officers responded to the mall shortly after 7 p.m.
A suspected shoplifter had allegedly fired shots inside the mall at a security guard and missed, according to LAPD Cmdr. Andy Smith and LAPD Sgt. Carlton Brown.
Nobody was injured by the gunfire, and the suspected shooter fled the scene, Brown said.
One man at the mall told KTLA that everyone was initially told to get down on the floor and wait for an all clear to be given. They were allowed to leave about 30 minutes later, he said.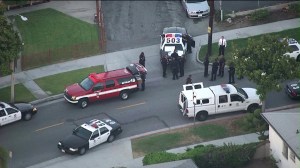 A perimeter was established in Leimert Park in the area of Crenshaw Boulevard and Vernon Avenue as officers and police K-9s searched for the shooter, according to Smith.
The alleged gunman was eventually located within the perimeter in a residential garage in the 3700 block of Santa Rosalia Drive (map), a news release from the LAPD stated.
Aerial video from the scene appeared to show a confrontation involving officers and the alleged gunman around 8:25 p.m.
The officers shot at the alleged gunman, fatally wounding him, according to Brown.
Multiple gun shots could be seen and heard in at least two cell phone videos that captured the incident.
One witness, who did not want to be identified, described the scary moments to KTLA.
"He wouldn't come out and the dogs were barking at the door," she said. "He told him to put his hands up against the cabinet, and then they were marching inside the house. Five minutes after that, there was just shooting. The cops just shot like five times back to back to back."
The woman added, "I started crying, and then that's when I called my mom."
A body wrapped in white sheets was later seen being taken out of the garage on a stretcher and loaded into an ambulance, according to the video.
The alleged gunman's identity has not yet been released.
An investigation into the officer-involved shooting was underway. It would ultimately be reviewed by the LAPD chief Charlie Beck, the Office of the Inspector General and the Board of Police Commissioners, according to the release.
KTLA's Kennedy Ryan contributed to this report.