This is an archived article and the information in the article may be outdated. Please look at the time stamp on the story to see when it was last updated.
A woman allegedly armed with a baseball bat and handgun was identified Friday afternoon after a police officer shot the woman in the leg in the middle of Hollywood's tourist district.
Diamond Vargas, 47, was shot at the Hollywood & Highland parking structure located at 6801 Hollywood Blvd. (map) after she allegedly pointed a gun at officers early Friday morning, according to police.
Vargas was hospitalized in stable condition and will be booked on suspicion of assault with a deadly weapon on a police officer, LAPD Detective Meghan Aguilar said.
The incident started shortly before 1:30 a.m. Friday when the two women were arguing on the third floor of the garage, according to police. Vargas, armed with a baseball bat, was allegedly smashing a scooter, officials said.
"She then sees the officers, at which point she goes to her pocket, pulls out a handgun. She pointed it at the security guard … then she points it at the officers and an officer-involved shooting occurred," LAPD Commander Dennis Kato said.
The woman was hit once in the leg, according to police.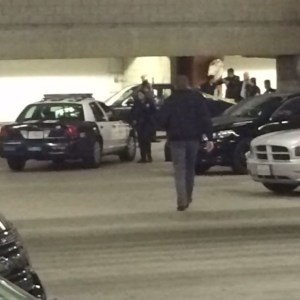 Investigators were still conducting interviews and did not clarify the relationship between the two women involved in the incident.
"Hollywood & Highland complex is not just a shopper center. It also has bars and restaurants, so 2:30- 2:15, they could be coming out of one of those establishments, or they could be hotel patrons here," Kato said.
It was still unclear if the other woman, whose identity was not released, would also face charges, police said.
"We do have the other female that was a party to this dispute. We have her at Hollywood station and investigators will talk to her," Kato said.
Friday's incident marked the second officer-involved shooting in the area this month. On Dec. 5, police shot and killed a man armed with a knife at the corner of Hollywood Boulevard and North Highland Avenue (map).
More Video: