This is an archived article and the information in the article may be outdated. Please look at the time stamp on the story to see when it was last updated.
Each January, thousands of volunteers fan out across Los Angeles to count homeless people living in riverbeds and canyons, on street corners and in hidden encampments.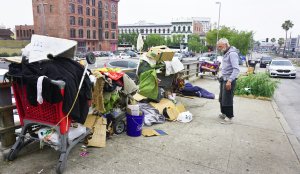 The count does not purport to tap every person who experiences bouts of homelessness over a year, but rather produces a snapshot of the street and shelter population that can be used to shape policy and distribute funding. Last year's count found 58,000 homeless people throughout the Los Angeles region.
Now a new study says L.A.'s count underestimates the number of homeless people and reports year-to-year shifts in gender, ethnicity and age breakdowns that are not "plausible."
Demographic surveys used to get race and gender data are not random, and the final numbers are so different from school and welfare homeless data that they must be wrong, the Economic Roundtable, a Los Angeles research group, said in its report.
Read the full story on LATimes.com.