This is an archived article and the information in the article may be outdated. Please look at the time stamp on the story to see when it was last updated.
Authorities announced a $100,000 reward for information leading to the capture of a Newport Beach fugitive who is wanted on suspicion of killing his wife in 2012, intensifying their ongoing efforts to apprehend the suspect.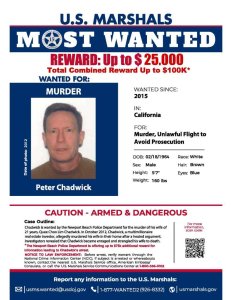 Peter Chadwick and his wife, Quee "Q.C." Chadwick, disappeared from their Newport Beach home on October 12, 2012. The couple had three sons, who at the time were 9, 12 and 15.
Chadwick eventually called 911 from a gas station in San Diego and told authorities a handyman had killed his wife and kidnapped him.
Despite his description of events, Chadwick was arrested in connection with the homicide and Q.C.'s body was found in a dumpster in suburban San Diego, according to the Newport Beach Police Department.
Chadwick, who is now 54, was released on $1 million bail in December, 2012 and made a total of 13 court appearances before he disappeared in January 2015.
The U.S. Marshals Service has named Chadwick, who was born in the United Kingdom, one of their 15 most wanted criminals.
Marshal David Singer said during a news conference Wednesday that his office has been actively searching for Chadwick.
"We will leave no stone unturned until Chadwick is behind bars," Singer said.
Newport Beach Police Chief Jon Lewis said the case has frustrated investigators.
"Almost six years later, we haven't had the satisfaction of seeing him face trial," Lewis said, referring to Q.C. Chadwick's death.
During the news conference Wednesday, Lewis announced a new podcast produced by the Newport Police Department on the Chadwick case called "Countdown to Capture."
The accompanying website features photos of Chadwick in and out of custody.
Officials hope the reward, podcast and news coverage of the case will lead to Chadwick being apprehended. He is wanted on a $5 million warrant.
"You're in a very bad situation here," Orange County District Attorney Rackauckas said Wednesday, speaking directly to Chadwick. "You're a fugitive from justice, there's a $100,000 reward on your head, the word is getting out everywhere." "You can run, but you cant hide much longer."
Authorities believe Chadwick, who became a U.S. citizen in 1991, apparently researched how to live off the grid and change your identity. He emptied millions of dollars from bank accounts and had taken out cash advances from credit cards before he disappeared, officials said. Given the amount of money Chadwick had at his disposal, officials said he can be anywhere in the world.
Chadwick is described as being 5 feet 7 inches tall, 160 pounds with brown hair and blue eyes. Anyone with information about his whereabouts can call 1800-550-NBPD.
The NBPD is putting the finishing touches on an exciting new project... and we think you're going to like it!

Stay tuned this coming week for the announcements, and learn how you can be a part of the "Countdown to Capture". pic.twitter.com/eRvSpwtofi

— Newport Beach Police (@NewportBeachPD) September 15, 2018