This is an archived article and the information in the article may be outdated. Please look at the time stamp on the story to see when it was last updated.
An 8-year-old boy allegedly abducted by his biological mother in Carson earlier this week was brought to the authorities on Thursday.
Dylan Kostenko's foster mother went to pick him at Towne Elementary School at about 2:40 p.m. Tuesday when school personnel told her the boy's biological mother, 29-year-old  Dariia Kostenko, had already done so, according to the Los Angeles County Sheriff's Department.
"She just walked up right to him, took him by the hand and walked him northbound on Towne Avenue," Detective Mike Perea said Thursday.
Two days after the boy was taken, the suspect's boyfriend, 48-year-old Antione Deshon Eldridge, brought him to the Inglewood Police Department, the agency said.
Two hours later, officers found Dariia Kostenko near the station and arrested her on suspicion of kidnapping, according to the Sheriff's Department.
Eldridge was booked on suspicion of accessory after the fact, the Sheriff's Department said.
Authorities previously said Dylan and his biological mother were last seen walking in a residential area north of the school. Dylan was last seen wearing a black t-shirt with a picture of a dog and the phrase "Dab All Day" and blue jean shorts. Kostenko was wearing a red hooded sweatshirt, officials previously said.
During a news conference Thursday, Perea said they had exhausted all leads in finding the mother and son and asked the public's help in the search.
Officials had said they did not know where Kostenko would be heading, but said she was known to frequent West Los Angeles and had family in New York, where Dylan was born.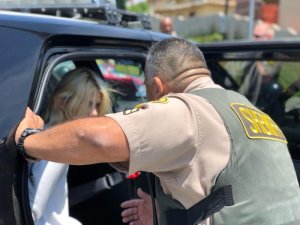 Kostenko, who's from the Ukraine, was staying in the U.S. on a student visa, sheriff's officials said. They said they were working to ensure Kostenko could not leave the country, and that she did not have any vehicles registered to her name. Her last known address was in Los Angeles, but she had apparently also been a transient.
Dylan was taken from Kostenko last year and placed under the care of the Department of Children and Family Services. Authorities said Kostenko was not allowed to pick up the boy from school and had monitored visitations with him, per a court order.
Authorities said Dylan's father was out of the country, but did not have any additional information about the family's relationship.
Correction: This article has been updated to correct Perea's last name.