This is an archived article and the information in the article may be outdated. Please look at the time stamp on the story to see when it was last updated.
Ray Huey bounced around from North Carolina to Washington state, Oregon, Idaho and Nevada before landing at the homeless camp on the side of the Santa Ana River in Anaheim.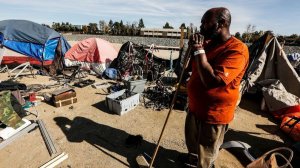 In Anaheim, he found an unlikely collection of homeless people, including many couples. For years, this growing camp has become not just a place to sleep but a community for hundreds, complete with makeshift dwellings and a scattering of dogs.
But on Monday, Orange County officials began clearing out the camp, the final stage in a months-long effort to remove camps along the river that had become a much-debated symbol of the affluent county's spiraling homeless problem.
"I just love this country, so it's hard to pick one place to stay," Huey said. "I guess I have to respect what they're doing — but no, I haven't made up my mind where to go next."
Read the full story on LATimes.com.