This is an archived article and the information in the article may be outdated. Please look at the time stamp on the story to see when it was last updated.
More than a dozen women and one man have come forward with allegations against a Newport Beach orthopedic surgeon and his girlfriend who have been charged with drugging and sexually assaulting two victims, the Orange County District Attorney announced Friday.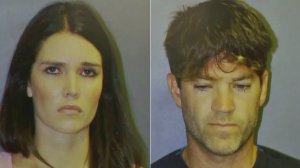 Though Grant William Robicheaux, 38, and Cerissa Laura Riley, 31, were charged in connection with assaulting two women earlier this week, authorities said they have received more than 50 credible leads about potential victims. Investigators have also expanded their inquiry into the defendants to several states, and are looking into the possibility that Robicheaux could have committed crimes dating back two decades, District Attorney Tony Rackauckas said during a news conference.
One of the alleged victims that came forward is from Louisiana and alerted authorities about an incident that occurred about 20 years ago, an official at the DA's office told the Los Angeles Times.
Investigators discovered videos and photos on Robicheaux's phone that suggest there are more victims. The DA's office said investigators obtained a search warrant for an iCloud account that contained multiple terabytes of information, along with warrants for Google and Yahoo accounts.
The doctor appeared on the Bravo reality TV show "Online Dating Rituals of the American Male" and was named "Orange County's Most Eligible Bachelor" by Orange Coast Magazine in 2013, according to the Times.
Rackauckas said the couple used their charm and good looks to lure women and make them feel comfortable. Robicheaux and Riley met the two victims they are charged with assaulting at a bar and restaurant in Newport Beach, but investigators believe Robicheaux also contacted women through dating apps like Tinder and Bumble.
"Ladies, please be careful when you meet people on these kinds of apps, you don't know what's behind, what appears to be, a perfect smile," Rackauckas said.
The DA's office is continuing to work with the Newport Beach Police Department to investigate the crimes there. He encouraged people who may have been victimized elsewhere to not be ashamed and come forward.
"This is something that may not be limited to this case, and we need people to know that this is not acceptable conduct," Rackauckas said.
The incidents that Robicheaux and Riley were charged with allegedly occurred in April and October 2016.
The first victim was allegedly drugged and raped by the pair. A toxicology report determined the woman had cocaine, ecstasy and MDA in her system, according to the L.A. Times. The couple drank with the second victim until she was unconscious and sexually assaulted her with the intention of raping her, officials said.
Robicheaux was charged with rape by use of drugs, oral copulation by anesthesia or controlled substance, assault with intent to commit sexual offense, four counts of possession of a controlled substance for sale and two counts of possession of an assault weapon.
Riley faced charges of rape by use of drugs, oral copulation by anesthesia or controlled substance, assault with intent to commit sexual offense and four counts of possession of a controlled substance for sale.
The two are out on $100,000 bail each.
In a statement through their attorneys, the defendants "unequivocally denied" the allegations against them.
"They have been aware of these accusations for a number of months, and each of them will formally deny the truth of these allegations at their first opportunity in court," the statement read. "Dr. Robicheaux and Ms. Riley believe that such allegations do a disservice to, and dangerously undermine, the true victims of sexual assault, and they are eager to have the proper spotlight shed on this case in a public trial.
The statement also noted the allegations do not concern Robicheaux's patients.
During their own news conference Friday afternoon, the attorneys questioned why the investigation took so long and that it spoke to the "seriousness of the allegations, or lack thereof."
Robicheaux's attorney, Philip Cohen, said he and his team has reviewed video and other evidence against their clients, and are ready to defend them in court.
He said the defendants were aware of the yearslong allegations against them and they did not attempt to flee. In fact, Cohen said, Robicheaux left the country on two occasions before he was arrested and returned.