This is an archived article and the information in the article may be outdated. Please look at the time stamp on the story to see when it was last updated.
The fire captain who died after gunfire erupted as officials were responding to a fire at a senior living facility in Long Beach Monday morning had been with the department for 17 years, officials said.
Dave Rosa, 45, had also served as captain of Fire Station 10 for the last six and a half years, said Long Beach Fire Chief Mike Duree.
He leaves behind a wife and two sons — ages 16 and 25.
"This is a tough day," Duree said, pausing tearing up. "It's a tough day."
Rosa's children had grown close to others in the department during their father's nearly two-decade career, said Jake Heflin, a spokesperson for the Fire Department.
"These young adults have grown up around the firehouse, so this is obviously this is a very difficult situation and time for all of us," he told KTLA.
Heflin described the fallen captain as a man dedicated to his family, his profession and "committed to always making himself better." Rosa often served as a mentor to new firefighters and paramedics and was a training captain before being assigned to station 10, he said.
"That's the kind of person Dave was, and he always had a smile on his face, always greeted you with a big hug and just a real engaging person," Heflin said. "And just a great friend and a great person to have around, and certainly someone you wanted on that engine company with you when you were going out and doing your job."
Firefighters could be seen embracing and consoling each other outside St. Mary Medical Center, where Rosa was treated, in aerial video from the scene.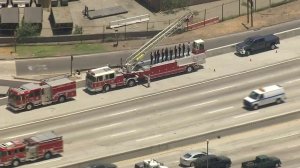 A "last call" issued for Rosa over authorities' communication system around 8:10 a.m. — after roll call was taken and he had not answered — signed off with words from a traditional Irish blessing: "May the sun shine upon his path, may wind always be at his back and may the Lord hold him in the palm of his hands until we meet again."
Rosa's body was escorted with full honors from St. Mary to the coroner's office beginning around 12:20 p.m. A flag could be seen flying at half-staff outside the hospital.
Rosa was among two fire officials who were shot during Monday's incident inside a high-rise building at 600 E. Fourth St. that houses apartments for seniors.
Crew members from other L.A. County fire departments were staffing the Long Beach stations as Long Beach firefighters attended the procession.
"This is a large event for us and a huge loss for us," Heflin said.
Long Beach Mayor Robert Garcia also expressed his condolences during a news conference.
"Long Beach lost a hero today," he said. "The entire city as well as our fire department is mourning the loss of someone who was very dear to our community."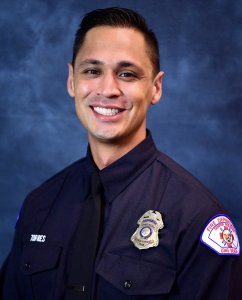 The second, Firefighter Ernesto Torres, was discharged from the hospital late Monday morning and is expected to make a full recovery, Heflin said. Torres is about 35 years old and has been with the department more than 10 years, according to Duree.
An elderly man, who is a resident at the building, was also wounded. He was listed in stable but critical condition, authorities said.
Officials were originally called to the scene around 3:50 a.m. to put out a fire, but then residents reported they had heard some sort of explosion and could smell gasoline. The building's occupants were told to shelter in place.
Then gunfire erupted around 4:10 a.m., shortly after firefighters put out the blaze but remained inside the building. It's unclear what led up to the shooting, said Long Beach Police Chief Robert Luna.
"You go to these scenes and you never know what's on the other side of those doors," Luna said. "These brave firefighters went through those doors and unfortunately they were met with gunfire."
At an afternoon news conference, Duree said firefighters are faced with dangerous situations on a daily basis in order to keep the public safe.
"It's important to note, firefighters across the region, across our state and across our country right now are putting themselves in harm's way in service to their community," he said. "Captain Rosa answered that call this morning of service to his community, and he paid the ultimate sacrifice."
A resident at the facility, identified as 77-year-old Thomas Kim, was initially detained as a person of interest, questioned and subsequently arrested, Luna stated at the news conference.
Kim was booked on suspicion of murder, two counts of attempted murder and arson, and was being held on $2 million bail, the police chief added.
A weapon was recovered, and investigators are still working to put together a "big puzzle" from a "very chaotic scene," according to Luna.
Meanwhile, tributes to Rosa were pouring in from public safety agencies across the Southland.
The men & women of the @LAFD mourn the tragic loss of @lbfd Capt. Dave Rosa. We grieve with our partners in Long Beach and offer our steadfast support during this difficult time. pic.twitter.com/ukv2MBeWcI

— Chief Terrazas (@LAFDChief) June 25, 2018
On behalf of the Orange County Fire Authority, we would like to offer our condolences to the Long Beach Fire Dept and the family of Captain Dave Rosa who was tragically killed in the line of duty this morning. pic.twitter.com/iqWEKAcxBc

— OCFA PIO (@OCFA_PIO) June 25, 2018
Long Beach is feeling tremendous sadness after this morning's incident. Our sincere condolences to the family, friends and our entire @lbfd for the loss of Captain David Rosa. 🙏 https://t.co/L4wPwzofBJ

— City of Long Beach (@LongBeachCity) June 25, 2018
We share the shock and sentiment of our local partners @lbfd during this time of tragedy. Firefighters run towards fires on a daily basis, but they don't expect to be ambushed by gunfire. @lbfd, you have the condolences of your local CHP Offices. @CHP_HQ @CHPsouthern @ChpLos https://t.co/31qR04VmfN

— CHP Santa Fe Springs (@CHP_SFS) June 25, 2018
This morning, Long Beach Fire Captain David Rosa died after being shot on a call. Captain Rosa was a 17 year veteran of @lbfd . On behalf of Chief Steve Hunt and the men and women of the Azusa Police Department, we extend our deepest condolences. #lodd #longbeach #firefighters pic.twitter.com/jaaK8oLSzn

— Azusa Police (@AzusaPD) June 25, 2018
.@YourFireChief Mark Hartwig and the #SBCoFD family stand with our brothers and sisters of the Long Beach Fire Department (@lbfd) in mourning the loss of Captain Dave Rosa. Our hearts go out to his family, friends, and fellow fire family members. https://t.co/ApbAp5IaNI

— SB County Fire (@SBCOUNTYFIRE) June 25, 2018
Our thoughts and prayers to the family of Captain Rosa and the entire @lbfd family from everyone @LAPDSouthTraff @CaptainJonTom during this difficult time. #RIP #Hero https://t.co/jK1NpB3q7B

— LAPD South Traffic (@LAPDSouthTraff) June 25, 2018
The officers of SBPD send our condolences to the @lbfd family and the family of Captain David Rosa. https://t.co/YlB1wPKkGF

— San Bernardino PD (@SanBernardinoPD) June 25, 2018
Our thoughts and prayers are with Captain David Rosa's family and our brothers and sisters of the Long Beach Fire Department. A very sad and tragic day. @lbfd https://t.co/IVIaol8hmW

— Santa Monica Fire (@santamonicafd) June 25, 2018
KTLA's Juan Flores contributed to this story.