This is an archived article and the information in the article may be outdated. Please look at the time stamp on the story to see when it was last updated.
Authorities on Saturday released the name of a 20-year-old man who allegedly approached and threatened a Long Beach police officer before the officer fatally shot him.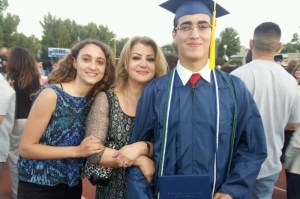 Feras Morad, of Woodland Hills, was identified by the Los Angeles County coroner's office.
He died at a hospital following an incident Wednesday evening  in the 4600 block of East 15th Street (map), according to the Long Beach Police Department.
A man at the location was "acting erratically" and got into a into a fight with his friends, who tried to restrain him before he broke loose, crashed through a window, and fell two stories to an alley below, the Police Department said in a news release.
Long Beach firefighters responded to a report that the apparently intoxicated man had fallen from the second floor of the building and was behaving violently, the release said.
A Long Beach police officer arrived at the scene after the firefighters requested assistance. According to the statement, the officer saw three male subjects in the alley, and one of them began to quickly walk toward him as he exited his patrol vehicle.
The man, later identified as Morad, "appeared to have a large cut on his body and was covered with blood," the release said. "The officer told him he was there to help him get medical aid."
Although the policeman ordered the man to stop so that he could be treated for his injury, Morad began approaching him more quickly, authorities said.
Believing that he was about to be assaulted, the officer then used an electronic control device and "an impact weapon" in an unsuccessful effort to subdue the man, according to authorities.
A witness who did not wish to be identified alleged that the man made "confrontational remarks" to the police officer, including, "I'm going to kill you."
The officer opened fire after Morad "again advanced toward the officer, telling the officer he was going to attack him," the Police Department said. Officials did not say how many shots were fired.
The wounded man was transported to a hospital, where he was later pronounced dead.
A GoFundMe page has been created to help his family pay for his funeral services.
The page describes Morad as a "brilliant, compassionate, and idealistic young man" who "was just stepping into his adulthood, and yet he had already touched countless lives with his kind and loving heart."
KTLA's Ashley Soley-Cerro contributed to this report.