This is an archived article and the information in the article may be outdated. Please look at the time stamp on the story to see when it was last updated.
Los Angeles County Sheriff's officials have identified a man who they believe raped a woman in Maywood on Nov. 13.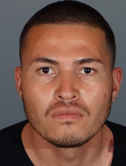 Salvador Martinez, 28, is believed to have raped a woman in her home in the area of Slauson and Maywood avenues.
The crime occurred between midnight and 4 a.m. and the victim was alone at the time of the attack, officials said.
Lt. Robert Peacock said the suspect went into the home through a window, entered the victim's bedroom, stood over her and sexually assaulted her.
The lieutenant said the woman was "very traumatized" by the incident.
Authorities released a  photo of Martinez, of Maywood, and photos of three tattoos of babies on his left and right forearms.
He remains at large.
In the public safety announcement about the rape earlier this week, sheriff's officials also included a sketch and description of an intruder wanted in connection with a series of incidents that occurred in Maywood since early October.
Peacock said they believe Martinez may be connected to the other crimes, and they are using forensic evidence to try and confirm that.
Anyone with information about Martinez can call the L.A. County Sheriff's Department Special Victims Bureau hotline at 877-710-5273.
Tips can also be left anonymously through Crime Stoppers by calling 800-222-8477, or going to the website http://lacrimestoppers.org.