This is an archived article and the information in the article may be outdated. Please look at the time stamp on the story to see when it was last updated.
Officials have identified a woman who was fatally shot and a man who was injured in a homicide and attempted suicide that occurred at The Oaks Shopping Center in Thousand Oaks Saturday afternoon.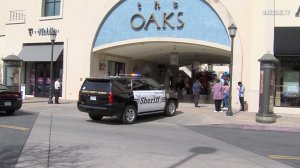 Parisa Siddiqi, 29, of Thousand Oaks, was fatally shot by her ex-husband Kevin Crane, 33, of Los Angeles, the Ventura County Sheriff's Office said Sunday.
The incident occurred about 2:15 p.m. when Crane apparently walked into Paper Source, a store in the outdoor section of the mall where Siddiqi worked, and opened fire.
Crane then shot himself. He was taken to a hospital where he remains in critical condition, officials said.
Authorities have not released a motive for the shooting or what led up to it except that the victim and suspect were divorced and they have two children.
No further details have been released.
The Ventura County Star reported that all stores in the outdoor portion of the mall were open Sunday except for Paper Source.
A note taped to the store's door read "All of us at Paper Source are sadden(ed) by the loss (of) our beloved colleague and team member," according to the newspaper. "Our thoughts and prayers are with her family, and most of all her two children, through this difficult time."
A woman who identified herself as a friend of Siddiqi's on Facebook posted a photo of the victim along with a heartfelt comment.
"We have known each other for a long time and I will never forget your beautiful smile and your contagious laugh! You were taken way to [sic] early and my heart goes out to your family and your beautiful boys in this time," the post read.
A Facebook page that appears to belong to Siddiqi shows several photos of her with two young boys.