This is an archived article and the information in the article may be outdated. Please look at the time stamp on the story to see when it was last updated.
A suspected intoxicated driver was detained after trying to escape from officers on foot in the Angeles National Forest on Friday, police said.
Officers began chasing the man, behind the wheel of a black BMW sedan, around 6:40 p.m. near the 12000 block of Osborne Street in Sylmar, Los Angeles Police Officer Drake Madison said.
Sky5 was initially overhead the pursuit as authorities struggled to keep pace with the suspect within the forest on Big Tujunga Canyon Road around 6:50 p.m.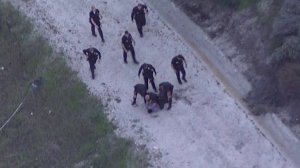 A short time later, the driver ditched his black BMW sedan on the side of a pullout and fled into a ravine on foot.
When police first located the man, he was lying on the ground and appeared injured. But he soon got up and began ambling clumsily away from the officers.
But police were able to chase the man down.
Just before 7 p.m. the suspect was seen being handcuffed. He tried to escape as officers escorted him out of the brush area, but the group of about 10 police officials was able to overpower him.
The man was loaded into the back of a police SUV at about 7:10 p.m.
He was taken to a local hospital, where he was still receiving treatment later Friday night, Madison said.
The man would eventually be booked on suspicion of driving under the influence, the officer said.