This is an archived article and the information in the article may be outdated. Please look at the time stamp on the story to see when it was last updated.
A vehicle previously investigated as "suspicious" after a bomb threat was made to the Santa Monica Pier was deemed safe Monday evening, and the area was reopened, officials said.
The incident was reported about 12:30 p.m., when a bomb threat was received, according to the Santa Monica Police Department.
Officials received another call about a bomb threat to the Culver City Police Department, but neither calls were linked to a particular caller.
Police surrounded the area and found a "suspicious" vehicle in the southeast portion of the parking lot and the pier was evacuated.
The Los Angeles County Sheriff's officials, along with the Santa Monica Fire Departments also responded to the incident. A local FBI agent is also assisting in search.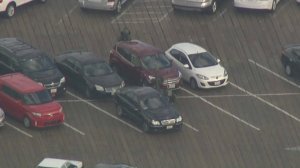 Video from the scene showed helicopters hovering over the pier and police vehicles driving on the sand.
Aerial video from the scene showed that the pier was clear of pedestrian traffic and it is cordoned off with yellow tape.
A robot was sent in to investigate a burgundy van parked in the pier parking lot and officials were inspecting it, aerial video showed.
Visitors are asked to avoid the area during the investigation.
Police also asked people who have parked their cars on the pier to be patient.
About 6:30 p.m., Santa Monica police tweeted that the vehicle was "rendered safe" after the investigation, and the pier was reopened shortly after.
PHOTOS: #LASD SEB Tactical Bomb Techs assisting @SantaMonicaPD w/suspicious vehicle at SM Pier don protective equipment to approach vehicle. pic.twitter.com/qoTs5aglNc

— SEB (@SEBLASD) September 12, 2017
SMPD can confirm a bomb threat was received regarding the Santa Monica Pier. Please continue to stay away. More info to follow.

— Santa Monica Police (@SantaMonicaPD) September 12, 2017
Bomb scare at Santa Monica Pier pic.twitter.com/GtzF3X6lOF

— Josh Berryman (@dinkelhaha) September 11, 2017
#LASD SEB Tactical Bomb Techs & Air Rescue 5 Tac Medics on scene Santa Monica Pier assisting @SantaMonicaPD with suspicious vehicle. pic.twitter.com/5KhUtgefVa

— SEB (@SEBLASD) September 12, 2017