This is an archived article and the information in the article may be outdated. Please look at the time stamp on the story to see when it was last updated.
Authorities provided new details on Wednesday in their investigation of a deadly confrontation that broke out after an armed man entered a home in East Los Angeles the previous day.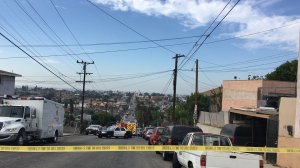 Deputies responding to the "shots fired" call at the residence in the 3600 block of Floral Drive around 8:30 a.m. Tuesday morning encountered three men who live in the home running from it, according to a statement from the Los Angeles County Sheriff's Department.
Two of the men were injured; one had sustained a laceration on the right side of his face, and the other had been shot in his left arm, officials said.
Deputies determined that a 24-year-old man, described only as Latino, had entered the home with a rifle.
The intruder first encountered the man who sustained a face laceration. The two engaged in a struggle, resulting in the victim's injury, officials said.
A second resident heard the scuffle and armed himself with his personal handgun before confronting the assailant, according to sheriff's officials. Gunfire then broke out between the two men, and the resident was shot in the left arm.
The third resident, unharmed, ran outside along with the other two residents and made contact with the responding deputies, while the intruder remained inside.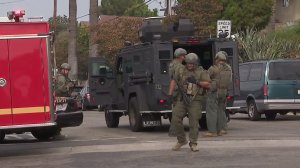 Authorities handled the incident as a barricade situation but eventually made entry into the home after numerous unsuccessful attempts to establish contact with the man.
He was found deceased and declared dead at the scene. He had sustained gunshot wounds, officials said, but it had not yet been determined whether they were self-inflicted or from the previous exchange of gunfire.
The residents were taken to nearby hospitals and treated for their injuries.
The incident does not appear to be gang-related, and sheriff's detectives are still working to determine the relationship between the deceased intruder and the residents.
Authorities also did not disclose the relationship between the three men who live in the home but said they would release details as they were confirmed, providing it would not hamper the investigation.
Detectives were currently working to process and examine evidence recovered the scene, officials said.