This is an archived article and the information in the article may be outdated. Please look at the time stamp on the story to see when it was last updated.
The Pasadena Police Department has released the names of the officers who responded to a 911 call last month which resulted in the death of 36-year-old Reginald Thomas following an altercation involving a Taser in an apartment.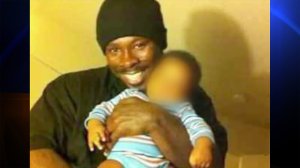 In a news release issued Sunday, the Pasadena Police Department said Officers Thomas Butler, Robert Griffith, Michael Orosco, Philip Poirier, Raphael Santiago and Aaron Villacana responded to the incident at 2:45 a.m. on Sept. 30. The officers were dispatched after a minor called 911 about a family disturbance allegedly involving Thomas, at the apartment located at 252 E. Orange Grove Blvd, police said.
Thomas was allegedly armed with a knife and a fire extinguisher, and refused to comply with officers' orders to drop the weapons. According to police, Thomas instead retreated back into the apartment and tried to barricade himself. At that point officers used a Taser on Thomas and a fight ensued. The officers restrained Thomas inside the apartment, but removed the restraints when they observed him not breathing.
According to the Pasadena Police Department, the officers immediately began CPR and other life saving measures until the Pasadena Fire Department arrived.
Officer Jeffrey Newlen arrived on scene shortly after Thomas was restrained and assisted with CPR, police said in a statement.
Thomas was pronounced dead on scene.
Caree Harper, who represents Reginald Thomas's family,  has alleged Thomas was repeatedly kicked and beaten by officers, and was not given proper medical attention.
Thomas's girlfriend, Shainie Lindsay, had previously told KTLA that Thomas was "dysfunctional" and bipolar, and had previous run-ins with police.
Thomas's death sparked protests in Pasadena.
The case  remains under investigation by the Los Angeles County Sheriff's Homicide Bureau.