This is an archived article and the information in the article may be outdated. Please look at the time stamp on the story to see when it was last updated.
Officials on Friday released surveillance photos of a car believed to be  involved in the fatal shooting of a 16-year-old girl in Lynwood in 2016.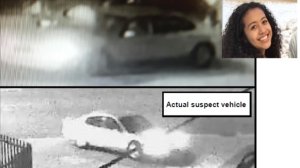 Danah Rojo Rivas, was sitting in the backseat of a car near Euclid Avenue and Long Beach Boulevard and was heading home from church on Nov. 23, 2016 when she was shot. Her brother and mother were also in the car with her.
Los Angeles County Sheriff's Department officials believe that two vehicles were chasing each other when gunshots were fired from one of the vehicles, described as a silver or gray 4-door sedan, possibly a Ford Taurus.
The suspect car was last seen heading west on Euclid Avenue. The vehicle carrying the apparent intended targets also left the scene.
Deputy Juanita Navarro-Suarez, said the victim didn't deserve to die the way she did.
"It could have been anybody, it could have been you, it could have been me," she told KTLA Friday.
Officials  have offered a $30,000 reward for information leading to an arrest in the case.
Anyone with information about the incident can call the homicide bureau at 323-890-5500 or Crime Stoppers at 800-222-TIPS.