This is an archived article and the information in the article may be outdated. Please look at the time stamp on the story to see when it was last updated.
A 32-year-old Cal Fire engineer from Escondido has died while working on the eastern flank of the nearly 390-square-mile Thomas Fire, officials said Thursday, and a procession was accompanying his body as it was removed from the scene near Fillmore.
Cory Iverson, a Cal Fire San Diego Unit fire apparatus engineer, was the father of a 2-year-old girl named Evie, Cal Fire Chief Ken Pimlott said in a news conference Thursday afternoon. His wife, Ashley, is expecting their second child this spring, Pimlott said.
Iverson had been working for Cal Fire since 2009, according to officials.
The engineer, who drove a fire engine, was pronounced dead at the scene, Cal Fire spokeswoman Lynne Tolmachoff told CNN. There were no other injuries in the incident, Tolmachoff said.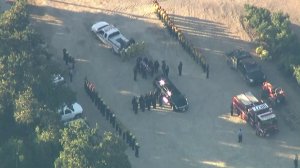 "His bravery and years of committed service to the people of California will never be forgotten," Gov. Jerry Brown said in a statement Thursday evening.
Pimlott  announced Iverson's death in a news release Thursday afternoon.
"Please continue to keep Cory, his family, and his coworkers in your thoughts and prayers as they deal with this tragic and untimely loss," Pimlott said.
Pimlott said IMT 4, Cal Fire Local 2881 and Southern Region leadership are "working to support the unit and his family."
Firefighters were gathered in the 1700 block of Grand Avenue, in an area of citrus groves just below the Topatopa Mountains north of Fillmore. The engineer's remains were placed into a waiting hearse about 3:30 p.m., aerial video from Sky5 showed.
"I know I speak for us all in saying our hearts go out to our Cal Fire colleagues during this difficult time," Teresa Benson, a forest supervisor for the Los Padres National Forest, said in a statement. "This is a tragic reminder of the dangerous work that our firefighters do every day."
CNN's Cal Fire source said the engineer had been fighting on the east flank of the blaze in the Fillmore area, and that he was on the fire line with a strike team of two or three other crew members when the incident occurred.
The Los Angeles Daily News reported a "mayday" alert was sounded Thursday morning, possibly near the city of Fillmore.
New evacuation orders were issued for the Fillmore area midday Thursday by the Ventura County Fire Department.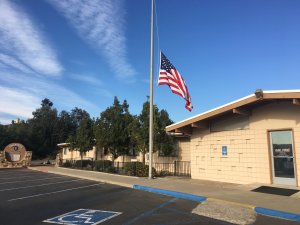 An engineer is an experienced firefighter who has been promoted to the job. He or she drives a fire apparatus like a fire engine, and leads his or her crew, according to the Cal Fire website.
The Thursday death is the second fatality linked to the fire raging in Ventura and Santa Barbara counties after a 70-year-old Santa Paula woman was discovered dead in her car along evacuation lines last week.
The Thomas Fire is now the fourth largest wildfire in California history as it continues to burn for an 11th day on Thursday.
Please keep the #ThomasFire firefighters & their families in your prayers …. pic.twitter.com/rJPfkOjIKE

— VCFD PIO (@VCFD_PIO) December 14, 2017