This is an archived article and the information in the article may be outdated. Please look at the time stamp on the story to see when it was last updated.
A shy, 3-year-old Chihuahua mix was rescued from a Jurupa Valley dumpster Saturday morning, according to officials.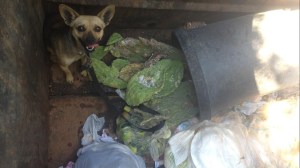 A local resident saw the dog in a garbage can located in the 6000 block of Mission Boulevard (map) while disposing of trash and reported it to the Riverside Police Department around 9 a.m., a Riverside County Department of Animal Services press release stated.
Officials located the dog and transported him to the Western Riverside County/City Animal Shelter where he was determined to be in OK health despite having a slightly high temperature.
"It is a sick act to treat any animal in this manner," department Director Robert Miller said. "A dog is a living creature. It is not trash. We can always work with pet owners to rehome their pet. To do something like this to a dog is despicable."
Officials believe the dog, who was described as shy but with a pleasant temperament, was dumped inside the trash receptacle overnight.
Anyone with information or tips about who might have dumped the dog was asked to email the Riverside County Department of Animal Services at Shelterinfo@rcdas.org.
If the owner was not found, the dog would be made available for adoption, the press release stated.