This is an archived article and the information in the article may be outdated. Please look at the time stamp on the story to see when it was last updated.
Huntington Beach lifeguards are reminding beachgoers to do the "stingray shuffle" when entering the ocean, as more swimmers than usual have reported being stung in the past week.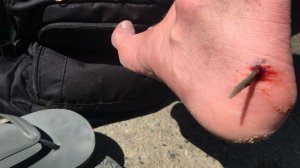 Dragging one's feet across the sandy sea bottom can send the creatures scurrying away.
Last week, the Marine Safety Department saw 300 stingray-related injuries, Lt. Eric Dieterman said Tuesday. On Friday alone, 73 such injuries were reported.
"We've had that number in the past," he said. "It's not uncommon, but it doesn't happen every day."
Read the full story on LATimes.com.