This is an archived article and the information in the article may be outdated. Please look at the time stamp on the story to see when it was last updated.
Two days after clumps of tar began washing ashore, closing a 9-mile stretch of a South Bay coastline, U.S. Coast Guard officials announced Friday that the area has been reopened to the public.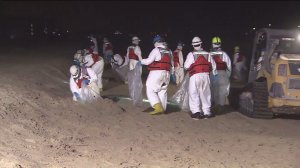 Local, state and federal officials were working to identify the source of the globs, which were first spotted in waters off Manhattan Beach Wednesday morning, washing ashore around noon, the Los Angeles Times reported.
The balls of black, some the size of footballs, led to a cleanup operation spanning from the Redondo Beach-Torrance border to El Segundo.
Officials removed 40-cubic-yards worth of tar debris by Friday morning, saying 10 percent of what washed ashore remained.
"We're basically using the lifeguard towers on the beach as a line in the sand," said lifeguard Section Chief Chris Linkletter of the Los Angeles County Fire Department.
But one fisherman spotted at the beach on Friday said it looked ready to be reopened.
"I come down here virtually once a week, it looks pretty normal to me today. If I saw any traces, I wouldn't," Glenn Komae said.
Analyzing the tar could take several days to a week or more, U.S. Coast Guard Capt. Charlene Downey said.
Asked if the "tar patties" may be connected to an oil spill in Santa Barbara County on March 19, which spewed as much as 101,000 gallons from a Plains All American pipeline, Downey replied: "My answer is, I just don't know yet. It's too early to tell. Obviously that's a concern that we have and something that we're following up on."
As of Thursday morning, there were "no wildlife issues" as a result of the tar balls, said Saul Garcia of the California Department of Fish and Wildlife.
Anyone who spotted an animal affected by the substance was asked to call 877-623-6926.
More video: