This is an archived article and the information in the article may be outdated. Please look at the time stamp on the story to see when it was last updated.
As oil continued to spread across the ocean from the site of an underground crude pipeline break near Refugio State Beach in Santa Barbara County, cleanup was being ramped up Thursday and questions were being posed about the pipeline's owner's regulatory infractions.
Plains All American Pipeline operates the line that ruptured midday Tuesday, sending as many as 105,000 gallons of crude oil spilling down a canyon, under a culvert, onto the sand and into the Pacific Ocean. An estimated 21,000 gallons entered the water.
At a Thursday morning news conference, a representative of the company dodged questions about the company's record. A Los Angeles Times review of federal data showed the company's rate of incidents per mile of pipeline was more than three times the national average for pipeline companies.
Houston-based Plains All American Pipeline, one of the largest pipeline operators in the country, shut down the flow to Line 901 about 11:30 a.m. Tuesday after a drop in pressure was discovered, Rick McMichael of Plains All American said. An hour later, reports of an odor near the rupture came from first responders, and the leak was confirmed at 1:30 p.m.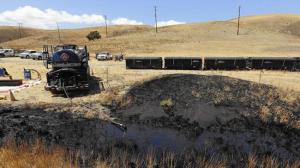 The pipeline has a capacity of about 2,000 barrels of crude per hour, but was pumping 1,300 barrels per hour before it was shut down, McMichael said Thursday. The company reports every spill down to 5 gallons, said the company's senior director of safety and security.
"Our goal is zero," said Patrick Hodgins of Plains. "We're not happy unless it's zero."
The company has had 175 safety and maintenance infractions since 2006, the Times reported in its records analysis.
Hodgins called the number of incidents "well within industry norms" later Thursday.
Meanwhile, cleanup operations on shore and on the water were expanding Thursday, a day after Gov. Jerry Brown declared a state of emergency in the county. More than 349 personnel were working on the oil-coated beach, authorities said Thursday afternoon.
More than 400 yards of saturated soil along the pipeline were excavated Wednesday night, a U.S. Environmental Protection Agency official said.
Workers began cleaning a culvert beneath the 101 Freeway Thursday, prompting single-lane closures in each direction on the freeway.
Eleven oil recovery response vessels were on the ocean, deploying 4,500 feet of boom to collect and contain water, authorities said. On Wednesday, U.S. Coast Guard Capt. Jennifer Williams, who is overseeing ocean operations, said there were two oil slicks stretching over 9 miles.
A Thursday morning flight over the spill area showed oil had spread across the ocean, farther offshore, making cleanup more challenging, Williams said.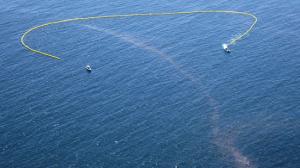 "It's a moving target. When you're talking about oil on the water, it's a very difficult process," Williams said.
More than 8,358 gallons of "oily water mixture" had been skimmed and removed, authorities said Thursday afternoon.
Fifteen additional skimmers were en route to join the three skimmers already in operation, according to a unified command news release.
The cleanup could take months, Williams said.
"You may see some progress early on, maybe in the first week or two, when you can actually see progress on the beach. But these types of things continue on, perhaps even for months, making sure that the environment is restored to its original condition," Williams said. "The responsible party — they're required to continue to be here and take responsibility."
Six brown pelicans were being treated for oil, first being allowed to gather strength before they are cleaned, according to Capt. Mark Crossland of the California Department of Fish and Wildlife Office of Spill Prevention and Response. The birds will be transferred to a facility in San Pedro for treatment, Crossland said.
A juvenile sea lion was also rescued and was being taken to SeaWorld for treatment. It had oil on 35 percent of its body, unified command stated.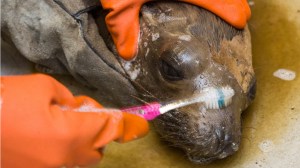 Lobsters, kelp bass, and other marine invertebrates have also been affected by the oil, Crossland said.
Anyone who sees oiled animals was asked to make a report to the Oiled Wildlife Care Network at 877-823-6926.
Those who want to help were urged to stay away due to health concerns and instead call a volunteer hotline at 800-228-4544. No more volunteers were needed, the Office of Spill Prevention and Response announced about 1:30 p.m. Thursday.
Petroleum odors remained in the area but were considered "generally harmless," Santa Barbara County's public health director said. Some people may experience headaches or nausea, and those who have skin contact with the oil or ingest contaminated fish my have other symptoms.
A 23-mile-by-7-mile area was closed to fishing. Those seeking to file claims for compensation were asked to call 866-753-3619.
Refugio State Beach and El Capitan State Beach were closed, and campground reservations at both beaches had been canceled.
Information about the spill response is at refugioresponse.com.
More video: