This is an archived article and the information in the article may be outdated. Please look at the time stamp on the story to see when it was last updated.
Crews worked to clean up hundreds of gallons of oil that bubbled up from a roadway near homes in the Los Angeles Harbor Area community of Wilmington on Tuesday.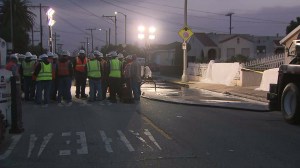 The operators of nearby refineries were first notified of the seeping oil on Monday afternoon, according to Janet Grothe, a  spokeswoman for the Phillips 66 Los Angeles Refinery who spoke to news media early Tuesday morning.
The oil was reported in the 1200 block of North Neptune Avenue (map), a street lined with homes. The roadway was closed off.
Residents complained of sore throats and dizziness, though fire officials said there were no health concerns.
"The smell — it gets to … your head and you get … bad headaches," said area resident Sarah de la Cruz.
The seepage appeared in residential area of Wilmington, which has many industrial sections and underground pipelines. Phillips 66 runs two refining facilities within a few miles of the site.
Los Angeles firefighters, a city hazardous materials crew and officials from the area energy companies responded to the scene, where crews drilled into the street and vacuumed up the oil.
Nearly 3,000 gallons had leaked into the roadway from a broken underground pipeline owned by Phillips 66, according to hazmat officials. It took several hours for workers to figure out the source of the oil, which Grothe initially said was not believed to be from a Phillips 66 pipeline.
A temporary clamp was being placed on the leaking pipe by late afternoon, but a permanent fix was still needed, authorities on scene said.
The leak originated from a small hole in a nonoperating pipeline that was shut down in 1998, City Councilman Joe Buscaino stated on Facebook late Tuesday afternoon.
"There are no health or safety concerns from the leak. The street will be opened by sundown tonight and complete repair is expected to finish tomorrow," wrote Buscaino, who represents the area.
At the scene of the cleanup, he questioned why fluid was still remaining in a pipeline that had been shut down for more than 15 years.
Oil was contained to an area of about 20 feet by 50 feet and had not reached groundwater or the storm drain, Grothe said early Tuesday. Air pollution from the seepage was being monitored, she added.
Grothe would not comment on any connection with Monday's magnitude-4.4 earthquake, which was centered more than 25 miles away in the Encino area.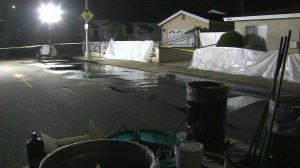 The cause of the spill was under investigation.
Rep. Janice Hahn, a Democrat from San Pedro, visited the scene, where she said underground pipelines were not being inspected frequently enough.
"We need to have better accountability and transparency from those who own these pipelines," Hahn said.
"I am very concerned for the safety and well-being of the residents of Wilmington," Hahn also said in a written statement. "The harsh, crude oil smell is not only horrible, but can also be potentially harmful to the neighborhood residents and environment."
KTLA's Christina Pascucci contributed to this article.