This is an archived article and the information in the article may be outdated. Please look at the time stamp on the story to see when it was last updated.
An oil slick of unknown origin grew to 3 miles long off the coast of Goleta Wednesday, when U.S. Coast Guard officials said the oil was too thin to clean up by conventional means.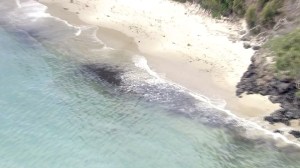 Kayakers reported the sheen and an odor about 10 a.m. to the Santa Barbara County Fire Department, a fire captain told television station KEYT.
The amount of oil was unusual but the source was not known, fire Capt. Dave Zaniboni told KTLA. The Fire Department was waiting for the state Department of Fish and Wildlife and the Environmental Protection Agency to arrive, he said.
"We're not sure whether this is just unusual seepage. This area is prone to seepage, so we're used to seeing it. All we can say is that boaters in the area are saying it's much more than normal," Zaniboni said.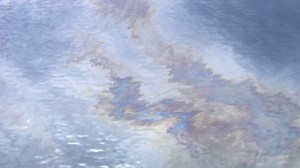 All county beaches remained open, and Santa Barbara County's public health director said there was no immediate threat to health or safety.
A U.S. Coast Guard petty officer told KTLA that a marine safety detachment team was investigating the oil. The slick was 1,000 yards off shore, Petty Officer Andrea Anderson said.
A Coast Guard press release referred to the sheen as a "possible oil spill."
At an afternoon news conference, Coast Guard  Lt. Jeremy Maginot said the sheen was 3 miles long and half-mile wide and was headed offshore.
Its origin remained unknown, and the sheen could be from natural seepage, he said. Samples collected by Coast Guard vessels were to be sent to a lab for analysis, Maginot said.
Offshore oil sheens typically dissipate naturally, the lieutenant said.
The sheen was too thin to be cleaned from the water by conventional means, Maginot said.
Aerial video from Sky5 showed a black substance washing up on shore, and blobs of apparent oil could be seen on the sand at Goleta Beach County Park (map).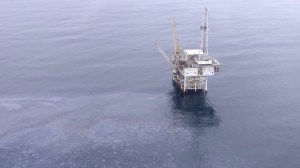 The sighting comes after a 24-inch underground pipeline ruptured in May near Refugio State Beach in Santa Barbara, releasing thousands of gallons of crude oil and creating a monthslong coastal cleanup.
Goleta Beach County Park is roughly 14 miles east of Refugio State Beach.
"There's no connection that we're assuming at all," Zaniboni said.
There are multiple oil-drilling platforms off Santa Barbara County, including one — Platform Holly, operated by Denver-based Venoco, Inc. — a few miles from Goleta. A sheen appeared to be flowing north from Platform Holly on Wednesday afternoon, video from Sky5 showed.
The company issued a one-sentence statement in response to KTLA's inquiry.
"There have been no incidents at Venoco facilities," said Keith Wenal, Venoco's manager  of health, environment and safety.
Maginot acknowledged the sheen is in the vicinity of Platform Holly, but said that's no indication the platform is linked to the slick.
The company asked the city of Goleta for an emergency permit to move oil from Platform Holly and Ellwood storage tanks to a petroleum facility out of the area, KEYT reported Monday. The permit was needed to clear lines in advance of a safety inspection, the company told KEYT.
The platform halted operations after the Plains All-American Pipeline rupture at Refugio State Beach, KEYT reported.
KTLA's Jennifer Thang, Steve Bien and Feven Kiflegiorgis contributed to this article.
An oil slick was encountered off Goleta Beach Park Wednesday by kayakers. Call Newsline. pic.twitter.com/i8ZvBsyoZR

— SBCFireInfo (@EliasonMike) July 29, 2015
#UPDATE Reported oil sheen off Goleta beach approximately 1000 yds from shore and 60 ft in width the sheen is being investigated.

— USCG Los Angeles (@USCGLosAngeles) July 29, 2015
CG urges individuals who come in contact with oil sheen to not make direct contact and notify any sightings to the National Response Center

— USCG Los Angeles (@USCGLosAngeles) July 29, 2015
More Video: