This is an archived article and the information in the article may be outdated. Please look at the time stamp on the story to see when it was last updated.
An Oklahoma man was charged on Tuesday in the fatal shooting of a mother and her 4-year-old daughter outside of their home in Long Beach three months ago, according to the Los Angeles District Attorney's office.
Brandon Ivan Colbert Jr., 22, from Tulsa, was charged with two counts of murder and one count of attempted murder, as well as special circumstance allegations of lying in wait and multiple murders.
Colbert is accused of hiding behind a sign near East Ninth Street and Locust Avenue and waiting for the family to return from a grocery store trip on Aug. 6, the DA said.
He then allegedly shot 26-year-old Carina Mancera and her daughter, Jennabel Anaya, around 10:20 p.m., according to the DA.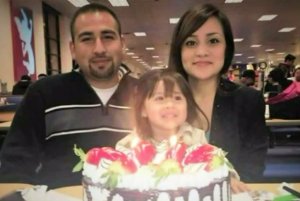 Mancera was shot multiple times and died at the scene. The little girl was pronounced dead at a hospital early the next morning.
Colbert also allegedly fired at 27-year-old Luis Anaya, Mancera's longtime boyfriend and Jennabel's father, who was with them at the time, police said. Anaya was not struck by the gunfire.
The motive for the shooting remains unknown, according to Long Beach Police Department Chief Robert Luna. Investigators have not ruled out the possibility that others were involved in the deaths.
Colbert is expected to be arraigned at the Los Angeles County Superior Court, Long Beach Branch.
He faces the death penalty or life in state prison without the possibility of parole if convicted. The DA will make the decision on whether to seek capital punishment at a later date, officials said.
Long Beach police are offering a $40,000 reward for more information and will continue to investigate the case.