This is an archived article and the information in the article may be outdated. Please look at the time stamp on the story to see when it was last updated.
An Oklahoma man was sentenced to life in prison for the 2016 shooting deaths of a 26-year-old mother and her 4-year-old daughter, who were shot dead in front of their Long Beach home as they returned from the grocery store.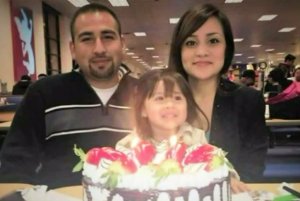 Brandon Ivan Colbert, 23, will not have the option of seeking parole, prosecutors said in handing down his sentence Friday.
Last week, a jury found Colbert guilty last week of two counts of first-degree murder and one count of attempted murder, according to the Los Angeles County District Attorney's Office. The jurors also convicted him of lying in wait and multiple murders, officials said.
Colbert attempted to get up and leave the courtroom during his sentencing but was tackled by three bailiffs and subsequently restrained in a safety chair, according to reporting in the Los Angeles Times.
The case shocked the community when Carina Mancera and her daughter, Jennabel Anaya, were gunned down in front of their home on Aug. 6, 2016, and even investigators said they were baffled by the seemingly random killings.
The victims did not know Colbert, a resident of Tulsa. He was hiding behind a sign when he began firing his shotgun at them, prosecutors said.
Mancera was struck multiple times and died at the scene, while her daughter was pronounced dead at the hospital early the following morning.
Colbert also fired at Luis Anaya, Mancera's longtime boyfriend and Jennabel's father, who was with them at the time. Anaya was not struck.
Prosecutors made no mention of a possible motive in announcing the conviction. Officials said he attacked them "without any provocation," according to the Times.
He was tied to the crime by DNA evidence found on a shotgun shell, according to DA's officials.
The 23-year-old was already in Los Angeles police custody when he was identified as a suspect. He had been arrested Aug. 27, 2016, on suspicion of driving a stolen vehicle. It is unclear if Colbert was ever charged in that case.
Investigators said he had traveled from Tulsa to Los Angeles on Aug. 4.
It's still unclear whether Colbert is the same man seen in Metro surveillance video who was identified as a suspect by police in October 2016.
At the time, they said the man in the video had been tracked from the crime scene and spotted at a local convenience store.
Long Beach police had offered a $40,000 reward for information leading to a conviction in the case.