This is an archived article and the information in the article may be outdated. Please look at the time stamp on the story to see when it was last updated.
A 21-year-old Fontana woman who has been charged in connection with a horrific crash in Diamond Bar that left six people dead — including the woman's own sister — appeared in Pomona Superior Court on Wednesday for an arraignment hearing, which was postponed.
Olivia Carolee Culbreath has been charged with six counts of murder after allegedly driving a 2013 Chevrolet Camaro the wrong way on the 60 Freeway in the early morning hours of Sunday, Feb. 9, and colliding head-on with a 1998 Ford Explorer, according to the DA's office.
At the Wednesday hearing, at which the judge did not allow cameras, Culbreath's arraignment was postponed to May 21.
Ramiro Cisneros, a Los Angeles County deputy public defender, is representing Culbreath in the case. Outside the courtroom, he told reporters that she "understandably is very scared, given the situation that she is in."
Culbreath is aware of the charges against her, Cisneros said. "At the same time, she's also grieving for the people that died as a result of this incident," he said.
The Camaro was traveling at speeds exceeding 100 miles an hour shortly before the collision, witnesses told investigators with the California Highway Patrol.
Evidence of alcohol consumption was found at the scene, CHP officials said.
Four members of the same family who were in the Explorer were killed in the crash, according to the CHP. Culbreath's older sister and a friend in the Camaro also died.
The victims of the crash were identified as: Gregorio Mejia-Martinez, 47; his wife, Leticia Ibarra, 42; their daughter, Jessica Jasmine Mejia, 20; Jessica's grandmother, Ester Delgado; Maya Louise Culbreath, 24, of Rialto; and Kristin Melissa Young, 21, of Chino.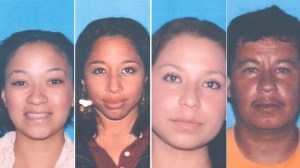 Culbreath was initially arrested after the violent collision on suspicion of felony driving under the influence of alcohol causing great bodily injury or death, and of felony manslaughter, CHP officials said.
However, DUI charges were not filed, according to the DA's office.
Culbreath had a previous DUI violation and had restrictions on her license lifted the week before the crash, according to the California Department of Motor Vehicles.
She was moved earlier this month from Los Angeles County-USC Medical Center, where she was being treated for a broken femur and a ruptured bladder, to the Twin Towers Correctional Facility in downtown L.A., inmate records showed.
Culbreath was being held on $6 million bail.
She faces a maximum sentence of life in prison if convicted on all charges, according to the DA's office.
Culbreath's arraignment had previously been postponed to Wednesday's date during a brief court hearing on March 10, when she was wheeled into the court on a gurney and wore hospital garb, according to the San Bernardino Sun.
Asked about Culbreath's medical condition on Wednesday, Cisneros said his client has "had several surgeries" and "still has some significant medical issues that she has to undergo."
KTLA's Tracy Bloom, Melissa Pamer and John A. Moreno contributed to this report.