This is an archived article and the information in the article may be outdated. Please look at the time stamp on the story to see when it was last updated.
An on-duty Uber driver had a blood alcohol level of .25 percent when he was arrested on suspicion of DUI in Simi Valley early Monday morning, hours after watching the Super Bowl at a bar, police said.
An officer was on patrol about 1:40 a.m. when he saw a vehicle, which had no front license plate, slowing down as it approached a green light at the intersection of Stearns and Alta streets, said Cmdr. Robert Arabian of the Simi Valley Police Department's Traffic Unit.
The officer pulled over the motorist, later identified as 47-year-old Robert Wing, who identified himself as a driver for the ride-hailing service Uber, according to a police statement. Police initially stated Wing's age as 46.
Wing stated he was on his way to pick up a fare at the time, adding that he had already driven two or three other Uber passengers in the city and was trying to earn some extra money after watching Super Bowl 50 at a local bar, the news release said.
The officer conducted a DUI evaluation on Wing, who was "unaware of his physical location due to his impairment and was relying on GPS to direct him where to go," the statement said.
The suspect's blood alcohol concentration was measured at .25 percent, according to the Police Department. The legal BAC limit is .08 percent.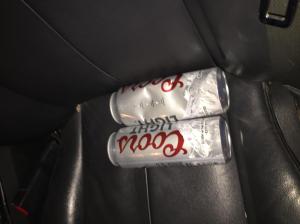 The department released a photo of two beer cans that authorities said were found inside the vehicle during the traffic stop.
Wing was taken into custody and booked into the Ventura County Jail on a misdemeanor DUI charge, according to police, and his vehicle was impounded.
He was later released on his own recognizance, according to the Ventura County Sheriff's Department.  He is scheduled to appear in Superior Court on April 13.
"We have a zero-tolerance policy for alcohol or drug use for anyone driving on the Uber platform," Uber said in a statement. "We are clearly disappointed to hear that something like this could have occurred and have permanently removed this driver-partner's access to Uber."