This is an archived article and the information in the article may be outdated. Please look at the time stamp on the story to see when it was last updated.
Authorities on Thursday were searching for one of two drivers involved in a suspected street racing crash in Paramount that left a 70-year-old woman dead and others injured, officials said.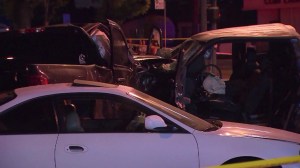 The five-vehicle collision occurred shortly before 7:25 p.m. Wednesday at the intersection of Orange Avenue and Somerset Boulevard (map), according to Lt. Eric Lindblom of the Los Angeles County Sheriff's Department.
Two black Chevy trucks were racing northbound on Orange when they entered the intersection, the Sheriff's Department said. One of the trucks continued on without incident; the other struck a 2004 Ford F-150 truck that was headed westbound on Somerset.
The driver of the crashed Chevy truck was taken into custody at the scene, Lindblom said.
The second suspected street racer, who was driving a two-door truck, remained at large. A description of that driver was not available.
Six people, including the man in custody, were taken to hospitals – one in full cardiac arrest, two suffering from major trauma and three with minor injuries, according to the L.A. County Fire Department.
One of the transported victims, a 70-year-old female passenger of the Ford, later died. Her name was not immediately released.
Two people, including one of the suspects, remained hospitalized in stable condition Thursday morning, said LASD Lt. Alicia Malone.
The stretch of Orange Avenue where the crash took place is known as a popular destination for street racers, according to a nearby resident. Multiple skid marks were visible on the street.
More video: