This is an archived article and the information in the article may be outdated. Please look at the time stamp on the story to see when it was last updated.
A disgruntled worker who was allegedly armed with a chain saw and tried to run over people at a Southern California Edison contractor's property in Torrance was taken into custody Tuesday after officers opened fire on him, police said.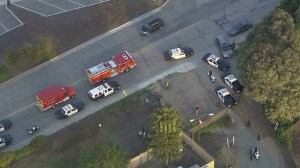 The incident began about 6:30 a.m. when a security guard on the Edison lot in the 17600 block of Yukon Avenue called police and requested help for an armed person, said Sgt. Paul Kranke with the Torrance Police Department.
The man was apparently armed with a chain saw, Kranke told KTLA. At one point during the incident, the man got into a vehicle and tried to run people over, Kranke said.
Videos taken by workers who witnessed the incident showed a chaotic scene in which the man first ran around, carrying the chain saw. Then he got into a truck and wildly tore around the large, open property, with a police vehicle following him.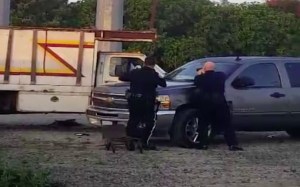 More than two dozen shots could be heard, with police yelling at the workers to stay away.
In the end, three officers pointed firearms at the man in the truck, shouting "Get your hands up!" and apparently firing several rounds, the video showed.
It was not clear if the man fired back at officers.
Officers did end up firing at the man but he was not struck, Kranke confirmed. He suffered other minor injuries during the incident and was being treated.
Aerial video from Sky5 showed a man in handcuffs being taken into custody at about 7 a.m.
One other person suffered minor injuries in the incident, Kranke said, but it was unclear how that person was injured.
While the property belongs to Edison, it was being used by Birchfield Enterprises, a tree-trimming subcontractor that cuts back trees from power lines, the company's owner told KTLA.
The owner said he was the target of the chain saw-wielding man, who he said frequently came by looking for work. The man had occasionally worked jobs for the company, but was not employed by Birchfield, the owner said.
The man initially started throwing rocks at the owner, he said. Another witness said the suspect appeared to be "on drugs."
No officers were injured in the incident, Kranke said.
KTLA's Melissa Pamer and Alberto Mendez contributed to this report.