This is an archived article and the information in the article may be outdated. Please look at the time stamp on the story to see when it was last updated.
Police said three people who were found dead in a Jeep parked in Burbank earlier this week—two identified as missing Bakersfield men— were likely victims of a crime that occurred under the jurisdiction of Riverside County.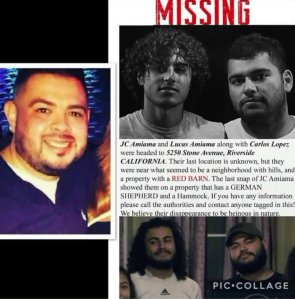 Coroner's officials first identified Jan Carlos Amiama, 21, of Bakersfield, as one of the men found in the vehicle, amid an ongoing search for missing men out of that area. They later determined that another body found in the car was Lucas Amiama, 23, also from Bakersfield.
The other missing man was Carlos Lopez.
The vehicle found in the 1300 block of South Varney Street Tuesday matches the description of a vehicle the three missing men were last seen traveling in.
It remained unclear how Jan Carlos or Lucas Amiama or the other person found in the vehicle died, but Burbank police said they are investigating the deaths as homicides.
The other person found in the Jeep Tuesday has not been identified.
A missing persons flier posted on Facebook Tuesday said the three men were on their way back from Riverside to Bakersfield and were last heard of on April 13 about 5:45 p.m.
Jan Carlos Amaima apparently also went by "JC" or "JayCee" on Facebook.
Burbank police said Wednesday that they were working with the Riverside County Sheriff's Department to follow up on information about a property in the 5200 block of Stone Avenue in Riverside.
The flier indicates the men were headed to a  property with a "red barn" at 5250 Stone Avenue.
"The property has been identified as a location of interest," Burbank Police Sgt. Derek Green said in an email.
He added, however, that it is unclear what connection the property has to the missing men and the homicide investigation.
Green said the area was secured Wednesday night and investigators were going to search it during the day, hoping to find information related to the investigation.
The Burbank Police Department later said in a statement that investigators who searched the property determined that there was enough evidence to suggest that the men found in Burbank were victims of a crime that likely occurred under the jurisdiction of the Riverside County Sheriff's Department.
Homicide detectives with Riverside County have taken lead of the investigation as of Thursday afternoon, Burbank police said.
KTLA's Kristina Bravo contributed to this story.