This is an archived article and the information in the article may be outdated. Please look at the time stamp on the story to see when it was last updated.
A suspected DUI driver whose license was suspended due to previous violations was arrested Friday after a fiery three-car collision in the city of Orange left one person dead and herself and another driver injured, authorities said.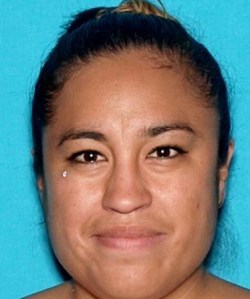 Stephanie Marie De Rosas, 32, was taken into custody in connection with the fatal crash, which occurred around 8:42 p.m. Thursday near the intersection of Yorba Street and East Chapman Avenue.
She suffered serious injuries in the crash and was hospitalized, according to the Orange Police Department.
De Rosas was driving a black sedan west on Chapman Avenue when she rear-ended a gray sedan, pushing it through the intersection, according to a police news release.
When first responders arrived, they found the gray sedan fully engulfed in flames. One person inside the burning car was pronounced dead at the scene, according to the Orange Fire Department.
The victim's name has not been released.
The driver of a third car, which was stopped at the light and side-swiped during the collision, was taken to a hospital with minor injuries, police said.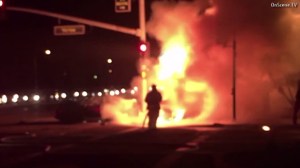 The force of the collision left two of the vehicles on the sidewalk, including the car that burst into flames, aerial video from Sky5 showed.
Debris from the violent wreck was strewn about the roadway, which was shut down for nearly eights hours while crews cleaned up the intersection and investigated the crash.
De Rosas was suspected of being under the influence or alcohol or drugs at the time of the crash, the police spokesperson said.
She was arrested on suspicion of gross vehicular manslaughter while intoxicated.
De Rosas had her driver's license suspended due to a failure to appear in 2012 and reckless driving in 2014, according to Kathy Richards of the California Department of Motor Vehicles.
Police initially gave her last name to KTLA as one word.
KTLA's Nidia Becerra, Stephen Acosta and Melissa Pamer contributed to this story.