This is an archived article and the information in the article may be outdated. Please look at the time stamp on the story to see when it was last updated.
A cyclist who survived being dragged by a vehicle on the 5 Freeway after being struck by a motorist in Griffith Park returned to his bike Friday night for a Los Angeles ride dedicated to remembering the thousands of people killed by hit-and-run drivers.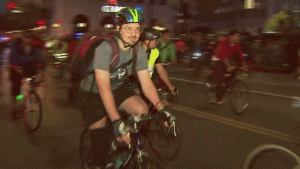 Damian Kevitt, 37, was joined on the latest Critical Mass ride by hundreds of other cyclists, who all came together to raise awareness of hit-and-run collisions and to hold a candlelight vigil to remember those who lost their lives in them.
It marked an important turnaround for Kevitt in his own recovery.
About a year ago, he was the one being honored by Critical Mass — a citywide bike ride held on the last Friday of each month — after he was involved in a brutal hit-in-run last year that left him with massive injuries, including an amputated right leg.
During that event, the cyclists rode by County-USC Medical Center, where Kevitt was recovering at the time. However, because of the extent of his injuries, Kevitt was unable to watch the group go by his hospital window.
"Last year I was sitting in a hospital with over 20 broken bones, a missing foot and fighting to save my other leg," he said Friday. "I was almost a statistic in terms of someone who died from a hit-and-run."
On Feb. 17, 2013, he and his wife were biking along the L.A. River towards Griffith Park when a minivan made a sudden left turn and struck Kevitt, according to the California Highway Patrol.
He fell to the ground and was briefly unconscious, he said after the collision. When he came to, Kevitt was pinned beneath the vehicle and unable to free himself.
"I was dragged nearly a quarter of a mile underneath a car by an individual who decided not to stop and take responsibility for what could have been a very minor collision," Kevitt said Friday.
A year later, and with the help of a prosthetic leg, Kevitt was not only able to get on his bike again, he also led the Critical Mass ride on Friday night.
"We're basically going to show the world that we're not interested anymore in anyone having hit-and-run crimes," Kevitt said. "Hit-and-run is not acceptable in this city."
Each year, 20,000 people are victims of hit-and-runs in Los Angeles County, according to a news release from the Critical Mass.
In addition to participating in the Critical Mass ride, Kevitt is also raising awareness through a charity ride he is organizing called Finish the Ride. The event will take place on April 27, 2014, in the area where Kevitt's horrific collision occurred.
Proceeds will go to the Challenged Athletes Foundation and the Los Angeles County Bicycle Coalition, according to the release.