This is an archived article and the information in the article may be outdated. Please look at the time stamp on the story to see when it was last updated.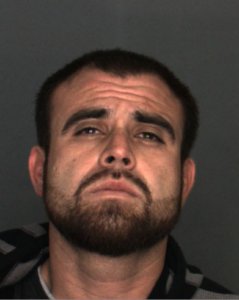 An Ontario man was convicted Friday of physically abusing his wife and punching and choking his daughter at their home, according to the San Bernardino District Attorney's office.
Agustin Jimenez, Jr., 32, was found guilty of two counts of false imprisonment, one count of criminal threats, one count of spousal battery, one count of child abuse, one count of vandalism and one count of evading an officer with reckless driving.
Jimenez got into an argument with wife that quickly escalated in Nov. 2015, according to prosecutors.
"At one point following the argument, the defendant held his wife and 17-year-old step-daughter hostage in a bedroom," Deputy District Attorney Cassandra Helmuth said in a press release. "When the daughter tried to escape Jimenez punched her in the face and began choking her."
The couple's daughter was eventually able to escape through a bedroom window. Jimenez' wife was able to flee and met her daughter after Jimenez left the home, prosecutors said.
The two women walked to a friend's house and borrowed a car before returning to their house to retrieve their belongings, according to the daughter's testimony.
As they pulled into the driveway, Jimenez returned and rammed his car into the back of their vehicle.
"The defendant then got out of the car, picked up a rock and smashed in two windows of the car," Helmuth said.
Both victims fled the scene and dialed 911. Ontario police officers found Jimenez driving back to his home and he was arrested.
Jimenez faces a sentence of 13 years in state prison. He is scheduled to be sentenced in Feb. 2017.